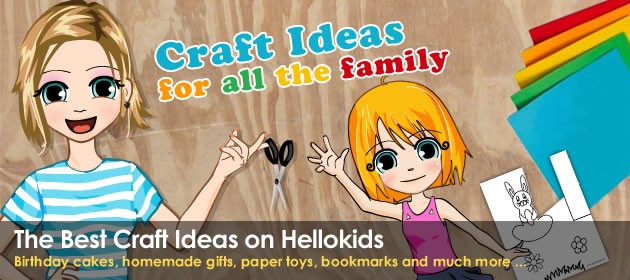 Activities for kids and all the family!
Grab your art supplies and get ready to make some fun gifts, birthday decorations, make a mask, learn to face paint or send a thank you. Crafts for kids has fantastic ideas for Halloween, Christmas, Mother's day and other main celebrations, cutting and pasting skills printables, greeting and invitation cards, paper toys and activities that make fun projects, special gifts and festive decorations. You can even get creative in the kitchen. So, put on your chef hat and make a delicious meal or a special birthday cake. Easy to follow recipes allow the family to cook together or to teach children how to cook. *First time chefs and young children should be taught the rules of kitchen safety and should always be supervised by an adult!
---
---
---
---
---
New Kids Crafts and Activities
Christmas symbols
Santa Claus
Snowmen
Christmas presents
gift tags 2
gift tags 1
Gingerbread man doll
Santa's Helper doll
Archangel Gabriel doll
Santa Claus doll
Name & gift tags
Teddy Bear & Christmas Tree
Snowman & Santa Claus
Reindeer & Christmas Gifts pop up place cards
Santa & Snowman
Nativity design paper
Melchior, Gaspar and Balthazar postcard
3 Wisemen design paper
How to make a felt Advent Calendar
How-to make a Xmas gift bag
Crafts and so much more!
Use your imagination, creativity and coordination! Here you will find fun activities, arts and crafts, cooking recipes, recyclable projects, printable greeting cards and writing paper, face painting ideas for children of all ages. Hellokids Crafts for kids offers free online printable craft templates, easy step-by-step instructions to make kids crafts, cooking recipes, party ideas, holiday and educational activities, indoor and outdoor inspiration, seasonal craft projects and greeting cards that keep kids busy and entertained. So take the time to create by getting inspired from all our fun crafts and activities. Our Crafts pages will help boost your child's imagination. 
The 3 R's - Reduce, Recycle, Reuse
Hellokids wants to make a difference in our environment everyday. Kids can make recycled gifts and projects by using recycled items such as milk cartons, paper towel rolls, egg cartons, jars, bottles and lids. See our Fun Kids Crafts page for more ideas on how to use your every day household items to make creative and inventive designs. Our craft ideas can also be used for a school art or science project. Go Green!
Kids related activities
birthday cooking holiday crafts