Disney Frozen Play-doh Sled Adventure
Let your imagination take you on an icy adventure with Anna and her friends from Disney's Frozen! Get Anna ready to go by pressing out a colorful gown to keep her warm, and then decorate it with the half-molds. And no sleigh ride is complete without Olaf, so grab the book-mold and his arms to make him. As you press down on the sled, it leaves a sparkling trail of Play-Doh snow behind it. Sven the reindeer can detach from the sleigh to double as a rolling cutter, too. There's always lots of frosty fun in your own Play-Doh winter wonderland!
Box Contents "Sled Adventure"
2 pots of glittering Play-doh glittering (pink and white)
3 mini pots of Play-Doh (green, purple and orange)
1 Anna figurine
1 miniature / Olaf mold
1 miniature / Sven
1 sleigh full of small and large molds
1 bar pattern for the Sleigh
How to Create this wintery scene:
Anna
Remove the dough press of the pink Anna figurine.
Place a ball of dough in the figure.
Use the press to flatten out strips of dough on Anna dress.
Place the dough in the sled, where the coat is.
Press out the sled against the table and then remove the coat and put it on the shoulders of Anna.
Raise the blue part of the sleigh and lift a little dough in place of the cup.
Press well into the sled then remove the cap and place it on the head of Anna.
You now only need to decorate her clothes using small pan molds on the sled. Do not hesitate to use several colors for a single mold when you make clothes and decorations.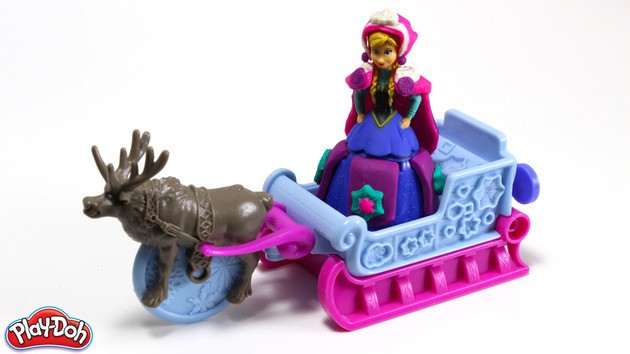 Olaf
Place a bit of orange clay into the Olaf mold where the nose is.
Uses clay to make blue and green hair, eyes and buttons, while also placing in the right place in the mold.
Fill the rest of the mold on both sides with white clay.
Before closing, place Olaf's arms in the mold which will be taken in the dough.
Press well, and when you remove the mold, here is Olaf!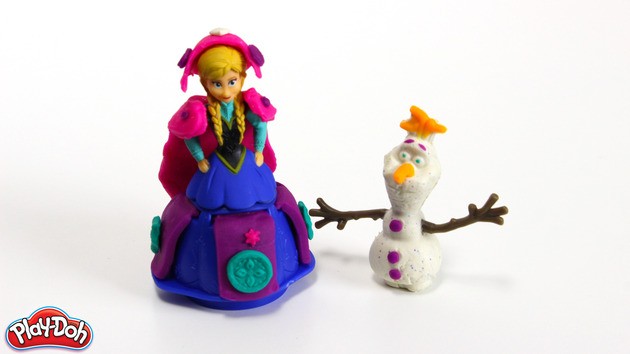 Sven and sled
Sven is placed on a roulette wheel, when you drag the sled, you can also cut the dough using this roulette!
At the back of the sled is a coil. Choose the shape you want the small bar, open the sled and slide a bit of clay in the hole before pressing. A nice coil comes out of the sleigh!