Author Tammy Brown Elkeles
Tammy Brown Elkeles
Tammy is an extraordinarilly talented Children's author. Tammy's latest book Fish Also Go To Heaven will be available May 5 and can be ordered on Amazon.com.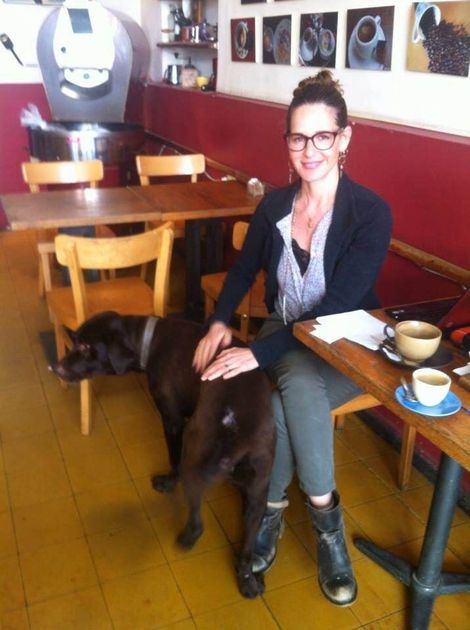 About Tammy:
Tammy Brown Elkeles started to write children's stories soon after she gave birth to her first child. She believes that children are an endless source of inspiration and joy and they can teach us important lessons about life. She lives in Tel Aviv with her husband Miki, a photographer and documentary director, and their two boys. Being a staunch optimist, Tammy believes that we have the power to influence reality and shape our own lives, and that is the message she wishes to convey through her writing. Tammy graduated with a BA in chemistry and nutritional biochemistry and later studied advertising as well as interior design. It was only in her thirties that she got to realize her childhood dream, studying playwriting and screenwriting and making writing her main focus.
Works Published: Tammy currently has seven children's books available on Kindle, and there are more to come. Tammy's book The Birds' Bakery will soon appear in print nationwide. She is also working on a comic books series for teenagers, D.J. Dirty Brown, to be published on Kindle.
Your thoughts and comments are important to her so please write to [email protected].
Tammy's Book: Fish Also Go To Heaven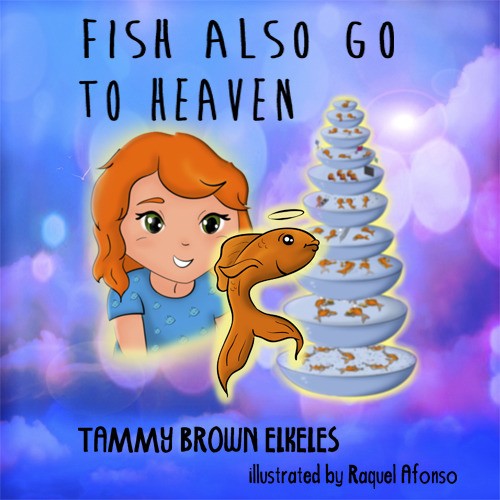 Like all children, Ellie loves her little pet, Fishie. Sometimes young children are confronted by the realities of life that no one lives forever, especially little fish. How will Ellie and her mother handle the situation when Fishie is not moving one morning? After trying to spare Ellie the pain and replacing Fishie by a similar fish, the new fish, after a while, jumps out of his fish bowl. Mother must now teach Ellie about one of the most basic facts of life.
"Fish Also Go To Heaven" offers kids a lesson about the facts of life and death in a unique way that will make it easy for them to handle similar loss.
Authors Interview:
When is your book release date for Fish Also Go To Heaven?
My book has just been released on amazon in eBook and physical format. There will be a book launch with discounted prices May 5-7.
Where will your book be available?
You can order Fish Also Go To Heaven and all of my books from amazon.com.
Where and how did you start to write?
I started writing when I was a child, about 9-10 years old. Actually, I remember myself waking up with enthusiasm every Saturday morning, and hurrying up to prepare a nice breakfast for my parents, so I could make a show in front of them with my new play. My parents where not suppose to touch the food before I finished my show. Too bad for them… I also remember my cousin dragging me each time I visited, to their room, to tell them a story with puppets. Unfortunately, when I was achild, I wasn't living in an environment that loved and appreciated stories, plays and movies like I did. At that time my home town was small and there weren't a lot ofopportunities to develop my passion like in the big city. And also, I didn't have friends who shared the same passion as I did. So I kind off let it go, which is sadbecause it was my dream one day to become an author. I actually remember myself writing and thinking about it. That's why it is very important for me to tell my storiesto kids and tell them to never ever give up their dreams! And yes-dreams can become a reality!
But my story does have a good ending because as you know, I did get to follow my passion, and was lucky after all.
After I finished my first degree in biochemistry of food, I new I wanted to study something more creative, and tried to find myself in interior design. During my studies, I worked in a casting agency, which triggered my passion again and it is then that I understood writing was my passion and I must be committed to it. After studying screenwriting and playwriting I started to write scripts, plays, comics and children books, which all of them are about me, in a way. So there is not one project which I can say that was my first. When I received scholarship to write my script for children feature film, this was an exciting moment. When my book "the bakery of birds" was accepted in a publishing house (it is going to be ready on summer) I was really happy, a validation each author craves for. Every project I do, when it comes out,is like birth, a new baby arriving into the world. A baby that I put my love and soul into, so each time it is exciting like the first time and even more...
Can you remember the first book that made an impact on you?
Wow, there are so many…but I would say "The wonderful Wizard of Oz" by L.Frank Baum.
Was it hard to get an agent? Can you talk us through the process?
Actually, I am a self publisher, so I don't work with an agent yet. I feel at the moment this is the right path for me. But if you are looking for an agent, I would search for books in the same category of yours which are listed in the times best sellers books and I would look for the names of the agents behind those books and try my luckin sending them my book. I know it worked for acolleague's of mine.
Describe your writing day. Where do you write? How do you organize your time? Where do you look for inspiration?
It is a good question, because as I writer, I often amcurious myself about the routine of other writers. I have attended several workshops myself, and the writers don'toften talk about their way of working. As a mother to 2 kids, I usually prefer to write during the morning, until my older son comes back from school. I try to do it after yoga practice, that my mind is relaxed and more concentrated. I write in a small coffee place in my neiberhood, which has lots of space and is not crowded. I don't look for inspiration, it comes to me. I try to be present in the moment in whatever I do,  and listen to people and what goes around me. Sometimes it comes to me in a dream, sometimes I see something and it turns me on and I know I want to write about it. I always write only about a story or character that I am passionateabout. This is the most important advice. To write with your body, your emotions and your passion.
Are there any tips you could give aspiring writers who are looking to get published?
I would say "believe in yourself!" First off all,complete your book and be sure you really really love it. I am saying this because actually, when we get to the point we show our book to a friend with a good eye or to an editor, usually they will point to us issues we arealready aware of, we feel that they are not good enough,but we tend go easy on ourselves. So listen to your feelings when you write, intuition will tell if you are onthe right path. Before you send your book to a publisher, it is very important to work on it with an editor first. But the most important tip- don't loose hope if your book is not accepted. Send to other publishers or become your own publisher. In my opinion the world is going to a direction that you can be your own publisher. Dr. Seuss was his own publisher until Rand house bought his successful publishing house, and there are so manyexamples of writers who weren't accepted until someone believed in them. But you have to like your art and to believe in yourself first!    
Which favorite authors would you invite to a dinner party?
I would defiantly invite Dr. Seuss and L.Frank Baum. Unfortunately they are not alive so after a second thought, it would very interesting and inspiring for me to drink coffee with J.K. Rowling 
Can you describe three aspects of writing craft that have been most important as you've developed as an author
Three aspects of writing crafts that I developed:
a. Write only about something that excites you, that gives you the chill. If you aren't interested or bored by your story, why would your readers like them?  
b. trust your body and your intuition, they will tell you if you are in the right path.
c. some days you will feel you are wonderful, you will write plenty, some days will be dry, you will feel you would like to erase everything you did. Accept that! Don't judge yourself. Try to refer to your writing like a mass off energy. Sometimes it will weigh more, sometimes it will be lighter, it is part of the process and when you understand it, it will help you thru this voyage. I tend to look at it spiritually. When I start to write, it is like I imagine I wear an open hat on my head-so the inspiration can come from the wisdom of the universe to my head. It like a ceremony which makes the writing special. That helps to cope with the long and windingway and I take it day at a time. It works for me.
Which fictional character do you wish you'd invented?
I wish I invented Alice, from Alice's Adventures in Wonderland or Dorothy, from The Wizard of Oz
What advice would you give young aspiring writers?
Trust your path
Who designed your book for Fish Also Go To Heaven?
Raquel Afonso
Would you like to see your book be turned into an animated movie? A movie with real actors? Who would you want to play Stanley? Any other character in the book you would like to have played by a famous or not so famous person?
Sure, as a screenwriter I would love my books to be animated. But because I am writing a movie script just now, I know how long the road is, so I actually didn't think about actors. If I think about "fish also go to heaven"- I would have to develop the story much moredramatically in order to develop it as a script, but it could be interesting to show in a movie the fish heaven. I guess the main character will be the fish, but if you have any ideas for me I would love to know…
Where can Hellokids readers find out more about you?
Hellokids readers can find more about me and my other books at my website which is: www.TammyBrownElkeles.com. Actually, I would love to hear anything you have in mind. Just write to me and I promise to read it and get back to you.
What inspired you to write Fish Also Go To Heaven?
the idea to write "fish also go to heaven" came to me after a friend told me how she replaced her daughter dying gold fish with another one to spare her daughter grief but when the new fish died as well, she had no choice but to confront her fear and tell her daughter the truth. So this part of the story actually did happened, but the whole heaven part came to me in inspiration. It was interesting for me to write about such a heavy and dramatic matter as death of a pet for a child, and to show it as a celebration, a festival with humor…I knew it could be risky to address this matter in this way but as a writer I am very pleased with result.
You say your children give you inspiration, have they given you any advice? If yes, what?
As I said, my children are my spiritual guides. They teach me a lot, every day, and especially, they teach ushow to truly listen to them, truly be present when I amwith them and in fact be present in whatever I do. Since I become a mom, I am much more aware of everythingthat is happing around me, the birds, the animals, natureas a whole…I really feel my awareness developed and ithas defiantly influenced my writing, enriched it …some of my best ideas, come to me at night, when I lay down with my sons in their beds before they go to sleep. It isactually a great time for meditation, so my head is relaxed and clear and I can get insights or think about new ideas…
Are any of your books in other languages?
At the moment my books are in English only. Till now there wasn't any need to translate them in to other languages but it can be done in the future if it will be necessary.
Buy Tammy's new book - Fish Also Go To Heaven
For mor information about Tammy's new book, cost and where you can buy it click on the this Daily Kids News link.