Alison DeCamp
Alison is a talented children's author of the book My Near-Death Adventures (99% True!) that launched its debut in February 2015. Her book is available at any independent book store and can be purchased from Barnes and Noble, Amazon and the Random House website.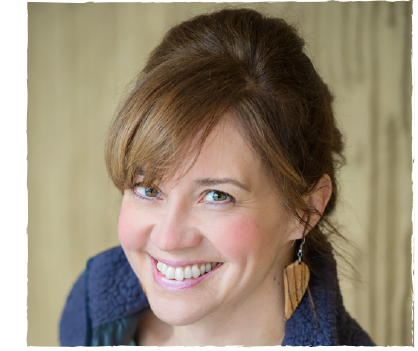 About Alison:
Alison DeCamp grew up in the Upper Peninsula of Michigan and graduated from Michigan State University with enough credits to be a doctor but chose to be a teacher instead. After eight years of middle school and high school language arts, she left teaching to stay home with her now teenage children and write.  She lives with her family and dogs in Northern Michigan, overlooking the lake.
Alison's Book: My Near-Death Adventures (99% True!)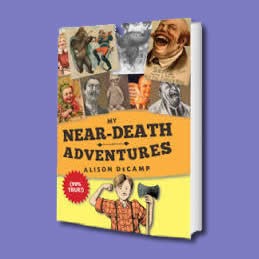 With the humor of an 1890's WIMPY KID and the illustrative component of MISS PEREGRINE'S HOME FOR PECULIAR CHILDREN (minus the creepiness), this is a fresh and very funny debut from a talented new voice in middle-grade fiction.
Author Interview:
When and how did you start writing?
I think I've been writing since I was able to form words on paper. I remember getting up in the morning and having a need to write. I was really fortunate to have a mother who encouraged all of my creative outlets.
Can you remember the first book that made an impact on you?
We had a book by Charles Dickens where one half was Captain Boldheart and the other was The Magic Fishbone. I love that book. I stole it from my parents' house. Don't tell my sister. The other books I loved were anything by Edward Eager, The Twenty-one Balloons, all of the Nancy Drew books. Who were your childhood storytelling heroes? Anne Shirley, Trixie Belden, Nancy Drew, Harriet the Spy (I carried around a spy journal for a while, but I never broke into anyone's house).
Can you talk us through the writing of your first book? What were the key moments? 
I've had the idea for a book about a boy in a lumber camp for years. I finally gave myself a deadline to start writing it in September 2012. I thought I had finished it in December and entered a contest where I got great feedback but it didn't go any further than that. I outlined a plot, I found a voice, I changed the beginning 15 times, I outlined a plot again, I added 25,000 more words, I became more intentional, and I found an agent who helped me hone my story even more. The key moments were letting go of things I loved but got in the way of telling the story. Sarah always reminds us not to "over egg the pudding." I have the tendency to put so many eggs in, it should be an omelette. I also had many, many illustrations scattered throughout the story, but initially they weren't even related to the words on the page. I don't know what I was thinking.
Was it hard to get an agent? Can you talk us through the process?
It is hard to get an agent. But it should be. For me, I entered contests, queried, had as many people I could find give me feedback on my writing, queried some more, entered another contest, and after querying for about 3 months, I accepted Sarah's offer of representation. I honestly can't remember the last time I was so excited.
Describe your writing day. Where do you write? How do you organize your time? Where do you look for inspiration?
I have a former art studio that my husband and I transformed into a writing studio. I'm a slow-riser, so I usually get up and get the kids off to school, drink my tea/honey/milk concoction, get dressed, and head to my studio. I turn on my stereo and start writing. It's not every day, but when I can write regularly it's the best. My kids are older and don't require as much of my time, so feasibly I can go write at 3 in the afternoon, my husband will make dinner and call me when it's ready. It sounds perfect, doesn't it? It's not. Most days don't work out that fluidly. Many days I find as many reasons as I can not to write. I go online. I go for a walk. I watch Veronica Mars and pretend it's research. I do think just taking part in life has the most inspiration—reading, talking to people, traveling, spending time with other writers, listening to podcasts—all of these things have led to ideas.
Are there any tips you could give aspiring writers who are looking to get published?
I think it's really important to be humble--listen to everyone's critiques and don't shoot them down right away. Always, always write and have another idea percolating. Ideas are seeds of hope. And don't compare your story or journey to anyone else's. I'll be 49 when my first book comes out and frankly, the timing is great. Also, if I lived in a more populated area, I would attend more conferences and network. The world of children's writers is a really giving and kind one.

Can you describe three aspects of writing craft that have been most important as you've developed as an author?
Developing voice, and recognizing it, has been so valuable. I don't know how it happens, but (and I'll probably jinx it by saying this) the more I write, the more easily these voices seem to develop. Also, simply varying sentences—length, word choice, etc. Reading aloud has been invaluable in this sense. And being intentional. I always ask myself if what I'm writing is propelling the story forward. Sometimes, especially in the first draft, it isn't, but as I write the second, third, fourth drafts, I have to remember to get rid of scenes that don't make the reader want to know what's going to happen next.
Which favorite authors would you invite to a dinner party?
Mark Twain, because I think he'd have great stories to tell and would be funny and wouldn't have any weird hang-ups I'd have to explain to my children later; Neil Gaiman, because I think he'd be a terrific conversationalist; and Jack Gantos because he might be the best to round out this weird trio. I have to say I've chosen these three more because I think they'd be fun at a party and less because they're my very favorite authors. It's all about the party.
Which fictional character do you wish you'd invented?
Harry Potter, without a doubt.
What advice would you give young aspiring writers?
I would tell young aspiring writers to read anything and everything and to write all the time. Also, writing is a craft --EVERYONE can get better by practicing.
Who designed your book cover?
My book cover was designed by Ken Crossland, Senior Designer at Penguin Random House. The image of Stan was drawn by Scott Nash who illustrates the Flat Stanley books.
Would you like to see your book be turned into an animated movie? A movie with real actors? Who would you want to play Stanley? Any other character in the book you would like to have played by a famous or not so famous person?
Who wouldn't love to see his/her book made into a movie? Although I could see the book more as a cartoon on PBS, perhaps. And I have NO idea who would play him--I think it would have to be some new, unknown actor. Granny would have to be played by someone like Meryl Streep who is not afraid of looking a little ugly (in a role, of course. In real life she's stunning.)
Where can Hellokids readers find out more about you?
You can find out more about me on Facebook and my own website Alison DeCamp.
Discover more literary resources from the Hellokids.com Reading and Learning channel.