Chocolate Kings Cake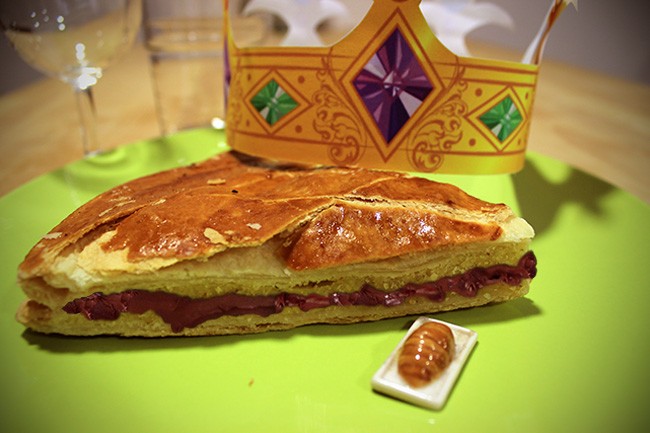 During the Epiphany, it is customary to eat a galette or cake. But while the Epiphany is a Christian holiday, the Kings Cake was to celebrate a pagan tradition that dates back to
antiquity.
So, to make it a little more original than the classic Kings Cake, we have added CHOCOLATE! Now you need a Royal Crown to go along with this fun tradition. click on this link: 
Royal Crown
About this recipe
Preparation time :

15 min

Cooking time :

30 min

Total duration :

45 min
Ingredients
Puff Pastry Sheets

:

2

Eggs

:

2

Powdered Almond

:

1 Cup

Powdered Sugar

:

1/4 Cup

Almond Extract

:

1 tsp

Ceramic Favor

:

1

Crown

:

1

Chocolate or use Chocolate Chips

:

3/4 Cup
Recipe
Let's see how to make a good frangipane cake.
Start by placing a sheet of puff pastry into a tart or pizza pan. Then pierce in several places with a fork, this will prevent it from drying out during cooking.
Spread softened butter in a pan by heating it slightly so that it is just soft.
In a large bowl, vigorously mix one egg (we keep the second egg for later), ground almonds, sugar and softened butter. Also adds a few drops of almond extract while mixing.
Once the mixture is well blended, spread it on puff pastry dough sheet that you have previously placed in the tart/pizza pan.
Sprinkle the chocolate evenly on top.
It is at this time you can put the bean inside. Do not place the favor too close to the center or middle, this way it will allow the favor to stay hidden when you cut the cake.
Place the second pastry sheet on top and press the edges together.
With a knife, draw patterns on the top of the dough to decorate.
Then, breaking the second egg and separate the white from the yolk. With a brush, spread the yolk over the whole surface of the puff pastry (to make it easier to spread you can mix it with a little water). This will give the dough a nice golden color after cooking.
Do not forget to pierce the top of the cake, making small holes with a fork.
Finally, put it in the oven 410 degrees for 30 minutes. Monitor the cooking time to time, and do not hesitate to cook longer if necessary.
If you did not, you will find a beautiful crown for the king or queen by clicking this link: Royal Crown
You're ready to share the Kings Cake with your friends or family!