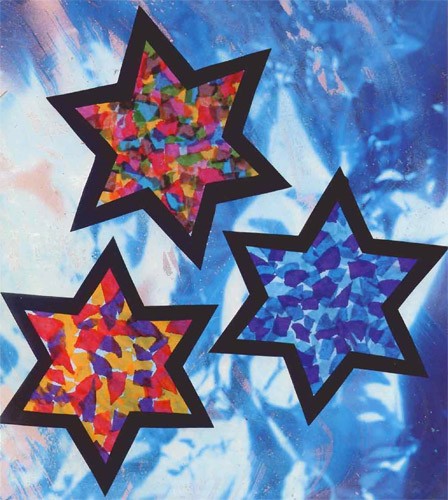 Hanging in a window, the stained tissue stars produces a dramatic effect. Even a four year old child can do this multicolored stained glass looking craft, as long as an older child helps build the framework of the star with drawing paper.
Materials Needed:
Drawing/Craft paper 
Parchment paper 
Pieces of different colored tissue paper 
Pencil 
Scissors 
Glue stick 
Tape
Ribbon (optional)
How to make a paper tissue stained star:
Print the template at the bottom of the page. 
Then cut the star to trace onto drawing paper creating the star outline. 
Cut the star. To cut inside, presses the tip of the scissors in the middle of the star and cut the paper to the ends. The frame is completed.
Glue this part of drawing paper on parchment paper and cut it following the outline of the star.
Return the star on the table side facing up covered with parchment paper. 
Tear tissue paper into small pieces and glue them one after the other, overlapping in places, on the parchment paper. 
When the star will be hung in the window, the light will bring new color shades. You do not need to cover the frame, since you look through the other side. 
Attach the star on the glass of a window with two sided tape. The pieces of tissue paper are all against the glass and the frame is visible on the other side. when the sunbeam comes to visit your window it will shine many beautiful colors.