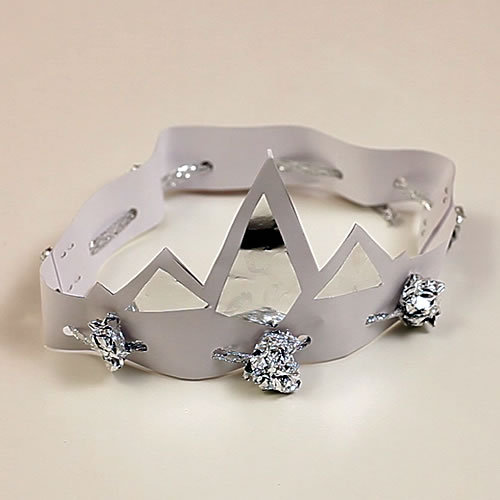 A crown fit for royalty
Originally this religious tradition was revisited by the pagans of ancient Rome, which set up a role-play between masters and slaves became "kings for a day". Although the abolition of slavery was proclaimed there for a long time, we contine this tradition in another way. Each country has its own variations. In France, it is with a kings cake made of (almond paste) when the Epiphany is celebrated. Its pieces are served to the guests, with the youngest of children hidden under the table, so that whomever gets the bean in their cake means they get to be a king or queen for the occasion and where the crown. So before eating cake, create your own crown.
Materials Necessary:
Printed patterns 
Scissors 
Aluminum foil
Glue 
Hole punch 
Pen 
Stapler 
Ribbon (silver or gold color preferred)
Tape measure
How to make your special crown:
Print the templates below.
Fold in half lengthwise. 
Cut out the patterns, following the drawing. 
Punch holes that are marked with small round circles. 
Open and flip over pattern. In this way the design of the outlined crown will not be visible: the result will be cleaner.
  
Cutting designs in aluminum foil and glue the patterns to make the crown dazzle. 
Make 7 balls with the aluminum foil: Prepare 7 pieces of aluminum foil (about 4 inches square). One by one, piercing the center of the piece with a pen, then scrunch.
With the tape, measure 3 lengths of the boss of the front part of the crown. Then cut the ribbon.
Staple the two ends together to enclose the crown. 
Thread the first aluminum ball on the ribbon. 
Alternating the ribbon through the holes of the crown, be sure to add the foil balls of aluminum on the outside.
Repeat the process until you complete threading the entire crown.
Tie a knot to finish the crown. 
Here is a pretty wreath for your head or your neighbor. Even if you are not adorned with the crown to wear during the epiphany you can make one to wear at any occasion.