The Gingerbread White House
page 1 / 2
Holiday traditions abound in each family.  But, nothing marks the arrival of the holidays more than the smell of gingerbread baking in the oven or decorating a gingerbread house. 
Gingerbread arrived in the United States in the early 1700s and has been a staple of American cooking for over 200 years. 
However, the White House tradition only began in 1969 when the first gingerbread White House, a simple A-frame rather than the intricate replica of 1600 Pennsylvania Avenue, was constructed with 16 pounds of gingerbread and six pounds of icing.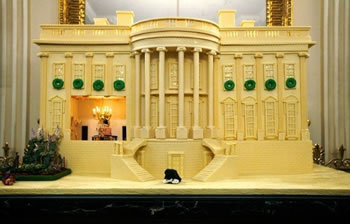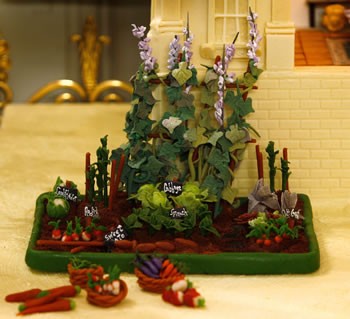 Each year, the White House chooses a decorating theme.  For this year's theme, First Lady Michelle Obama chose "Reflect, Rejoice, Renew".  This year's recreation of the White House took six weeks to make and weighs nearly 400 pounds.
This not-so-miniature version of the White House required 140 pounds of gingerbread and is covered in 250 pounds of white chocolate.  Several surprises were included this year, most notably the First Family's beloved dog, Bo, and the White House Garden, both made out of marzipan.
And, if you've always wanted a glimpse into the White House, the pastry chef removed a wall this year and recreated the White House State Dining Room, complete with furniture made out of chocolate.
In 2008, former first lady Laura Bush chose, "A Red, White and Blue Christmas."  This is how pastry chef Bill Yosses interpreted the theme for the White House Gingerbread house that year: