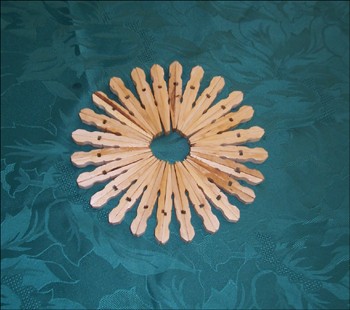 What you need
24 Wooden clothespins
Glue
Paint (optional)
Newspaper to protect your work space
Varnish
Brushes
How to
This coaster is simple and useful. You can use your imagination to decorate it for any occassion like Mother's Day, Christmas, Birthdays, etc.

Begin by removing the iron clip that is on each pin. Separating into two parts


Once this is complete, take two halves and glue them one against the other as shown in the photo below:
Assemble all 24 wooden clothes pins this way.
Once the glue is dry you can paint the trivet if you wish.
Cover it with a coat of clear varnish. You can also leave the natural wood with a layer of varnish for protection or stain the wood and then varnish.