How to Draw Randy, Randy from Monsters University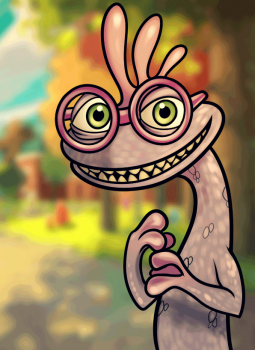 I know you know who you are looking at here. It's actually Randall Boggs from Monsters Inc. but in Monsters University he goes by the name Randy. In Monsters University Randy is geeky looking. He has a more mild appearance and seems less menacing. Now I don't know if his personality or drive is toned down a bit from what he turned into as he got older, but I do know that he will be one of the characters to pay attention to. Drawing Randy from Monsters University will be fun, and exciting. If you have been waiting for this lesson, here it is now. Peace out and enjoy.....
Step 1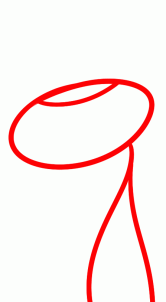 Make the oval shape for Randy's head then draw out the shape of his body.
Step 2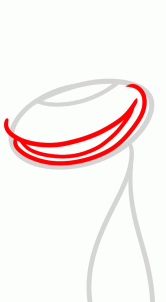 The first thing we need to draw on Randy is his big smiling mouth. It sort of looks like a flat disc of some sorts, but it should be relatively easy to replicate.
Step 3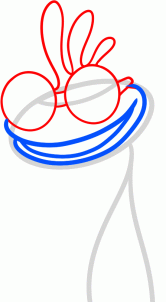 Next, draw in two circles for the eyes and or glasses, then draw the rounded frill on top of his head.
Step 4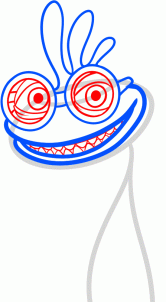 Inside the glasses you will begin drawing the eyes, color in the pupils, then sketch in the creases or wrinkles under and around each eye. Draw the small cone shaped teeth which are exposed from smiling.
Step 5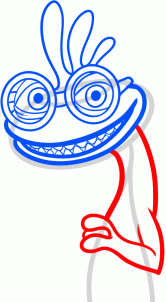 Now draw Randy's long lizard neck, followed by the torso, arm and hand.
Step 6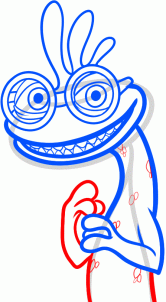 Lastly, draw in the rest of his body, then draw the other arm and hand. Notice how his fingers are rounded. Sketch in the scales on his body, then erase the mistakes.
Step 7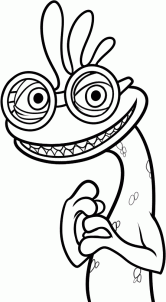 Here is Randy when you are all done. Now just color him in.

You will find incredible drawing tutorials for kids with step-by-step explanation how to create great drawings. All how to draw tutorials on HelloKids are provided by our partner, Dragoart.com. Pets, Pokémon, fantstic beast and dragons, be sure you will find something to draw on Hellokids!