How to Draw an Anime Boy For Kids
Here is a very simple lesson on "how to draw an anime boy for kids", step by step. Drawing anime isn't just for older teens, it's also for kids that love drawing their favorite characters who also happen to be from anime. My nine year old sister is a big fan of several shows, but I doubt she could actually follow this lesson because her anime people come out looking like fat stick figures. She can draw animals almost as good as me, but not people. If she keeps practicing I'm sure she will get better. That's it, enjoy drawing an anime boy for kids ya'll. I will be back soon so stick around.....
Step 1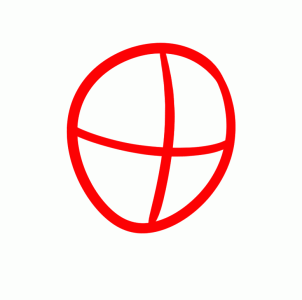 Start off by making a round shape then sketch in the facial guidelines.
Step 2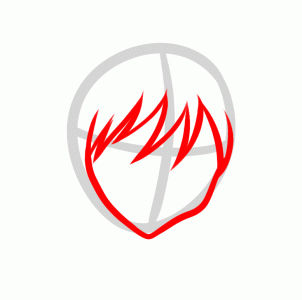 Sketch out the shape of the anime boy's face like so, then draw in the long pointed bangs. As you can see they are very neat.
Step 3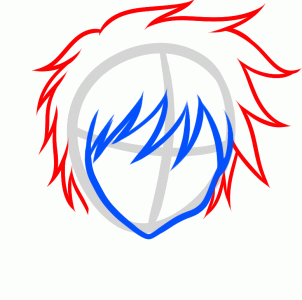 Continue to draw out his hairstyle which is long, but not too long. The hair should also look shaggy for that added anime appeal.
Step 4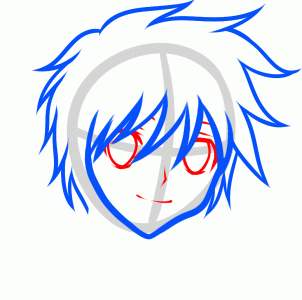 Draw out the big shapes of his eyes making sure that the top lid lining is bold and dark. Draw the nose, eyebrows, and mouth like so.
Step 5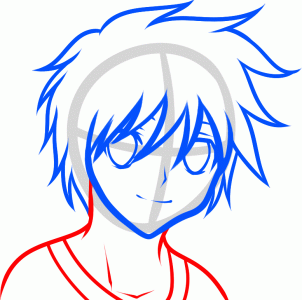 Lastly, draw in the anime boy's neck, then draw the shoulders, upper torso, and then his shirt collar. Add detailing to the neck too. Erase the mistakes people.
Step 6
Great job folks, now you can color in your new lesson on drawing an anime boy for kids.

You will find incredible drawing tutorials for kids with step-by-step explanation how to create great drawings. All how to draw tutorials on HelloKids are provided by our partner, Dragoart.com. Pets, Pokémon, fantstic beast and dragons, be sure you will find something to draw on Hellokids!
Your comments
1 vote(s) - Average rating 5/5
Thursday January, 28, 2016 at 01:34 AM
This is awsome
View other comments