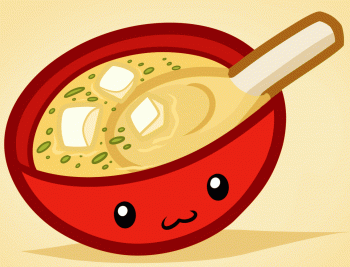 I have another favorite Asian inspired food turned into a drawing lesson for you all on a bowl of soup that you may recognize. I can't express how much fun I'm having making these tutorials on Japanese style foods. Up next, I will be showing you "how to draw miso soup", step by step. Miso soup is versatile to make because you can add so many different things to the stock. The base of miso soup is made of a miso paste. Inside of the stock for a traditional Japanese style soup is tofu, negi, wakame (which is a type of seaweed), and then there are vegetables like potatoes, carrots, mushrooms, onions, or whatever else you would like to add. Personally I like my miso soup with a bit of shrimp and or fish in it too. Even though there are looks of ingredients that you can add to miso soup, traditionally only less than a handful of stuff is added and that is basically miso, tofu, and a vegetable. I wanted to have some chopped green onion on my bowl so that is what you will be drawing on yours. Unless of course you want to change what your soup has inside. Well that's about it. Have fun with drawing miso soup. I will be back soon with more drawing fun. ....
Step 1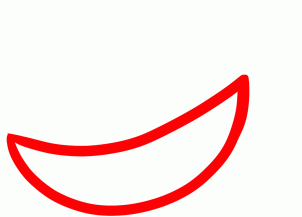 Begin by making the shape of the bowl base which looks a lot like a banana, or great big smile.
Step 2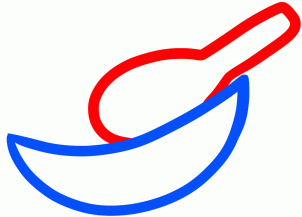 Next, draw out the shape of the ceramic Asian style soup spoon like so. These spoons are a common utensil with Asian culture. Especially when eating soups. Notice how the cup of the spoon is shaped like a small bowl.
Step 3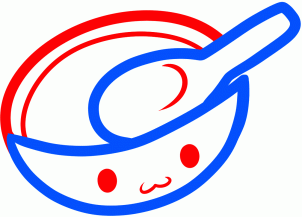 The next thing you need to do is draw the back part of the bowl and you can do this by simply drawing a crescent shape. Draw the rim lining, then color in two eyes and a chibi style mouth. You will also need to add the dimple in the soup spoon.
Step 4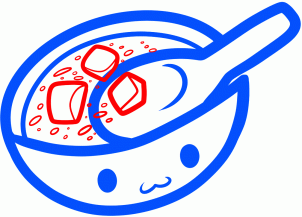 Now lets draw in the ingredients. Start with drawing some cubed tofu, and then draw the sprinkled chives or green onion. Clean up your drawing when you are all done.
Step 5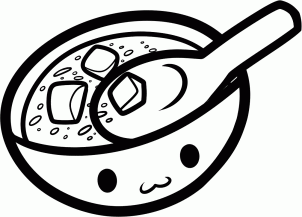 Here is what your miso soup looks like when you are all done. Now you can choose some colors to add some vibrancy to your bowl of Japanese style soup.

You will find incredible drawing tutorials for kids with step-by-step explanation how to create great drawings. All how to draw tutorials on HelloKids are provided by our partner, Dragoart.com. Pets, Pokémon, fantstic beast and dragons, be sure you will find something to draw on Hellokids!