How to Draw a Kawaii Amoeba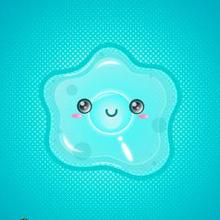 I honestly don't know what category this is even suppose to be in but hopefully there will be some clarification of that from the administrators who manage the site. I thought about starting a kawaii tutorial collection for avid beginning artists for quite some time now since I've become more into the whole kawaii art style so here I have a tut on how to draw a cute little cell organism, the Amoeba in 6 easy steps, now much less lengthy than my previous tutorial. Just to give you a little bit of knowledge of what they are, an amoeba is a single cell organism that originates from the animal kingdom, Protista. Thanks and enjoy the tutorial.....
Step 1
Draw 5 circles together into a small group. NOTE: They don't have to be perfect circles and you can make them overlap each other. Use the picture on the right for reference.
Step 2
Now draw an outline around the 5 circles that you drew. Use the picture on the left as reference.
Step 3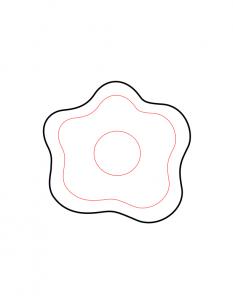 Next, erase the 5 circles you drew from Step 1 and draw a smaller outline inside the previous outline you drew from Step 2 and finally draw a circle in the center. Use the picture on the right as reference.
Step 4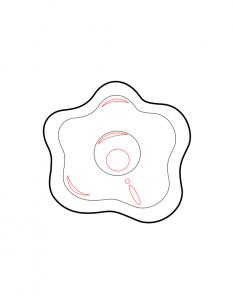 Next step is to draw the highlights for the Amoeba cell. You don't have to include them if you don't want, but it usually helps your artwork stand out more. Use the picture on the left for reference.
Step 5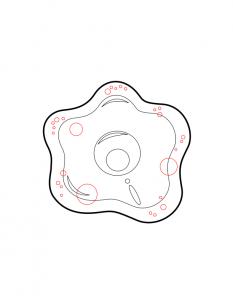 This next step shouldn't be too hard. Draw little circles inside the outline that you drew from Step 2. NOTE: The circles do not have to be perfect and you don't have to draw as many circles in this step. Use the picture on the right as reference.
Step 6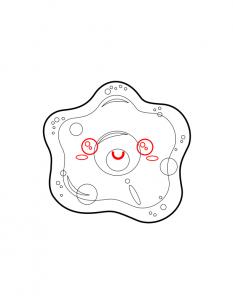 After you've finished drawing the circles inside the cell's body, the next step is to draw the happy kawaii face. Use the picture on the left for reference.
Step 7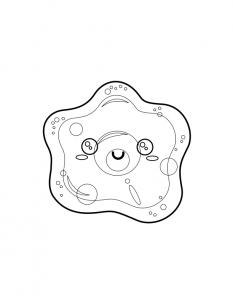 And there you have it! You've successfully completed this portion of the tutorial, bravo! What's next? Now take your new drawing and add whatever colors you want. Perhaps you can redraw the shape of the Amoeba or even add a different kawaii face onto a new drawing. Whichever you decide, I hope you're happy to of enjoyed learning how to draw the Amoeba, kawaii style. Thanks again and good luck!

You will find incredible drawing tutorials for kids with step-by-step explanation how to create great drawings. All how to draw tutorials on HelloKids are provided by our partner, Dragoart.com. Pets, Pokémon, fantstic beast and dragons, be sure you will find something to draw on Hellokids!