How to Draw a Parakeet for Kids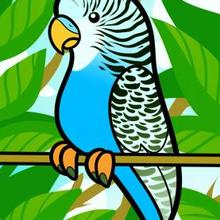 I have another adorable bird lesson that will definitely fill the hearts of all bird lovers out there. Since I love birds, I wanted to make a tutorial on a certain species that can be found in millions of homes around the globe. Up next, I will teach you "how to draw a parakeet for kids", step by step. This was one fun bird to draw and I think it's mainly because I used to own a parakeet before when I was around eleven years old. Once my parakeet passed away, my grandmother gave me a cockatiel which I named Rocky. This is truly going to be an exciting and colorful lesson to tackle, and if you scroll down to the finished line art step, you will see that I left out the markings on the birds feathers because I wanted you guys to create a design concept of your own since no one parakeet looks alike. Well, I guess that's it, have fun drawing a parakeet guys, and make sure you let me know what you think by leaving a comment, rating or both. Peace peeps, enjoy!....
Step 1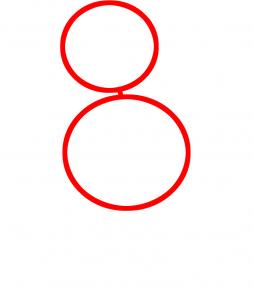 When creating a parakeet, you will need to draw two circles, one for the head and the other for the body. Attach the two with a neck line like so.
Step 2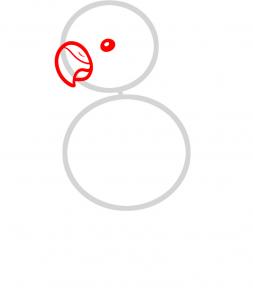 Next, draw the clawed style beak, then draw the skin tissue at the top of the beak, then draw a nostril hole. Draw and color in a solid eye.
Step 3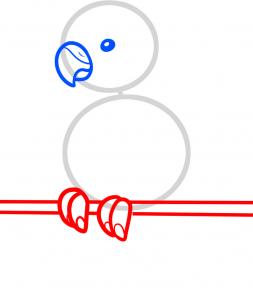 Instead of drawing the body first, we will begin step three by drawing the perch bar as well as the two toes and nails.
Step 4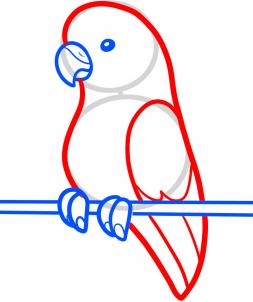 This is the last drawing step. Draw the entire outline of the parakeet's body including the tail and wing. Add the feathers on the tail and wing, and then clean up the drawing to perfection.
Step 5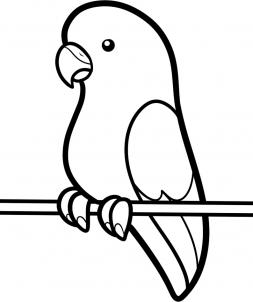 This is the final drawing when you are all done. Now you can draw the stripes, spots or whatever. Color in your bird and you are done.

You will find incredible drawing tutorials for kids with step-by-step explanation how to create great drawings. All how to draw tutorials on HelloKids are provided by our partner, Dragoart.com. Pets, Pokémon, fantstic beast and dragons, be sure you will find something to draw on Hellokids!