How to Draw a Jet for Kids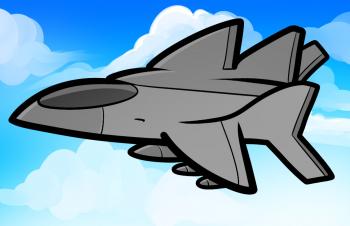 Okay, okay, I promise this is the last car or transportation related tutorial that will fall in the 'for kids' section for a bit. Before I do though I want to make sure that there is not only a plane tutorial for kids, but I also wanted to provide a lesson on "how to draw a jet for kids", step by step. Jets are very popular air crafts that kids, (especially boys) love and want to one day learn how to fly. I tried making a kiddie version of the jets that are in Top Gun, you know that movie with Tom Cruise as Maverick and his wing man Goose. Anyways, I really like how this jet came out and I'm sure you will enjoy it too. Be sure to let me know if you enjoyed this tutorial by leaving a comment, rating and you can even fav this jet. I will return in a bit once again so be sure to stay tuned in.....
Step 1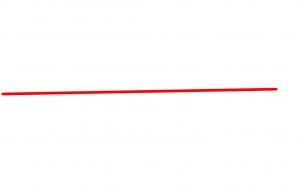 Start with a simple horizontal line for the base of the jet.
Step 2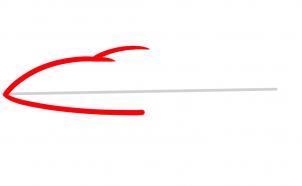 You will now draw out the front part of the jet's body and as you can see it is arrow shaped or more like a cone. Make some of the body to the jet and move on.
Step 3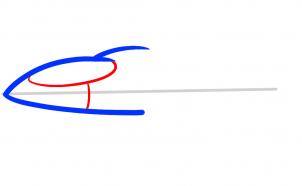 Make an oval shape for the windshield and then draw some frame detailing which is also parts of the jet's make up.
Step 4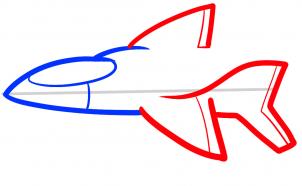 You will now draw out the jet wings on each side like so, and then begin drawing out the body of the air craft. Don't forget to draw some of the tail like so and then draw in some trimming along the edges.
Step 5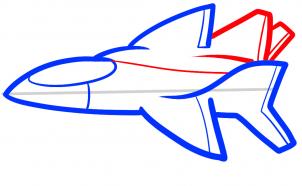 You will finish drawing the body of the jet by making the other side of the tail fin and then add some detailing to the middle section of the air craft's body. Add some texture to the body then move along to the last drawings step.
Step 6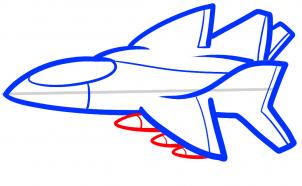 Draw the three missiles located under the wing and when you are done with that, you can start cleaning up the drawing.
Step 7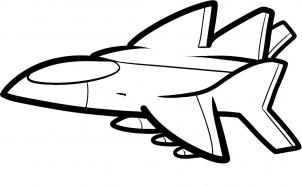 Here is the finished line when you are done. Notice how much space you have to color in your jet. Well that is about it folks, have fun guys.

You will find incredible drawing tutorials for kids with step-by-step explanation how to create great drawings. All how to draw tutorials on HelloKids are provided by our partner, Dragoart.com. Pets, Pokémon, fantstic beast and dragons, be sure you will find something to draw on Hellokids!