How To Draw Cars Lightning Mcqueen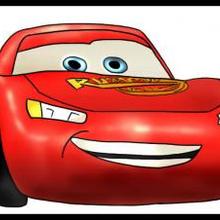 Hey everyone and welcome back to DragoArt. Today I thought I would have some fun and submit a tutorial on a fun character. You will be learning "how to draw Lighting McQueen". We all know that Lightning McQueen is a young hotshot race car, and his goal is to get to the top fast. Being a rookie driver he sees the opportunity to go to the top and get signed by Dinco and be there top race car. In order to reach his goal he has to win the Piston Cup race competition which he thought he had in the bag but, unfortunately for him two of his race mates also came in the same time he did, and those two other race cars are long time racer and veteran The King, and the other veteran to the tracks is Chick Hicks who also happens to be going after the Dinco position of top race car as well. All three race cars have to travel across country to California to finish the race once and for all for the Piston Cup. But on the way to California, Lightning McQueen takes an unexpected detour when he falls off the back of his carrier. Chasing after Mack his carrier he starts to realize that he is completely lost. Speeding down the forgotten road of Rt 66, McQueen is soon chased by Sheriff for speeding. Eventually he ends up in the deserted town of Radiator Springs where he must serve out a sentence for destroying the towns roads while he was racing threw them in order to get away from the Sheriff whom which he thought was shooting at him because he was backfiring. There he meets Mater the rusted tow truck that takes a liking to McQueen right off the bat. Personally he was one of my favorite characters in the movie. I found him to be very funny and sweet at the same time. Then he meets Sally, a 2002 Porsche 911, Sally originally comes from California but moved to radiator springs because she grew tired of life in the fast lane. She and McQueen develop a relationship later one in the flick. Lightning McQueen then meets Doc Hudson, he is a 1951 Hudson Hornet and he maintains his secretive nature while he runs the local medical clinic. No one knows that Doc used to be a race car until McQueen blows his cover. All threw the flick there are a ton of memorable characters. He eventually learns that life is not all about fame and fortune but more about friends and being true to yourself. This tutorial will show you "how to draw Lightning McQueen", step by step. The instructions are easy to read and understand. So go ahead and race to your drawing station as you sit back and draw Lightning McQueen.....
Step 1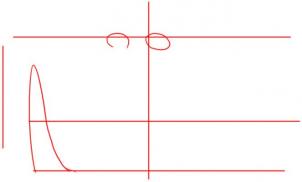 In this first step you will draw out the guidelines to aid you with the drawing of Lightning McQueen. Start by drawing three simple lines going across your sheet of paper, then one line down the middle, and then another line going down off to the left hand side. In the middle draw out the shape of two circles for his eyes and on the left draw out the shape of his fender.
Step 2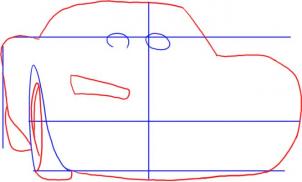 Now here in this step you will be drawing out the shape of his body as shown using the guidelines that you drew in step 1. After you draw out the shape of the car, draw in the two tires and the front headlight. So far it's pretty simple huh.
Step 3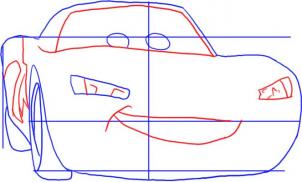 You will then start to draw out the front of McQueen by drawing out the windshield as shown. Next draw out his big smile along with his right headlight and detail them both. Now along the left side of the car draw out the lining for his numbers as you can see here. His racecar number is 95.
Step 4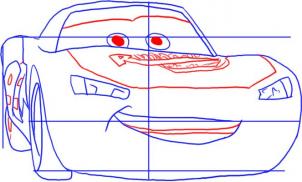 In this last step of drawing you will be coloring in his pupils, and drawing out the windshield lids as shown. Now next draw out the shape of his hood along with the spelling of Rusteze. Detail the 95 on the side of his car and then draw out his teeth. Now erase all the guidelines and shapes you drew in step 1.
Step 5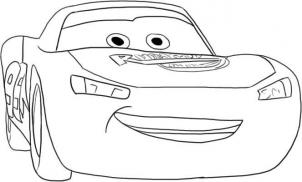 This is what your Lightning McQueen should look like after you are completely done drawing him. Now just color him in his bright shinny red and you are all set. That will do it fro this tutorial on how to draw Cars Lightning McQueen.

You will find incredible drawing tutorials for kids with step-by-step explanation how to create great drawings. All how to draw tutorials on HelloKids are provided by our partner, Dragoart.com. Pets, Pokémon, fantstic beast and dragons, be sure you will find something to draw on Hellokids!