How To Draw Patrick Star From Spongebob Squarepants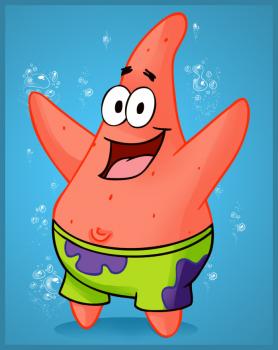 Welcome back to another fun tutorial on a Nickelodeon character that I know everyone loves and adores. His name just so happens to be Patrick Star and he is the best friend to SpongeBob Squarepants. He lives under a rock next to his other pal Squidward or at least he thinks it's his pal. Squidward lives in a huge rock styled house that sort of looks like him. Patrick is a funny, goofy, and dim witted, chubby, and sloppy, and dirty little star fish that lives under the sea. He doesn't work, which means it's a mystery where he gets money to pay for crabby patties and ice cream cones, and how is he paying for his meals when he visits the Goofy Goober. I have to admit I have been a big fan of the animated series for some time now. I even went as far as going to the theaters to see the SpongeBob Squarepants the Movie. When I seen that flick, I ripped my stomach apart from laughing so hard. Not only was it hilarious, it was raunchy, raw, cute, and unpredictable. Patrick and SpongeBob truly brought together one funny movie. I have to say the funniest part was when they both jumped off that huge cliff when they finally got there mustaches from princess Mindy (which Patrick has a huge crush on). She is the one that convinces the two to find her fathers crown or King Triton's crown so that Mr. Crabs doesn't get vaporized by his merman powers. But the movie isn't the only episode I found funny, it just added to my likeness of the show. One of my other favorite episodes is when Patrick wants an award because SpongeBob has so many. So what does Patrick do? He follows his buddy around everywhere and copies everything he does to earn an award. After failing trying to achieve an award by coping SpongeBob, he later receives a package in the mail which is finally an award that states something like œfor doing absolutely nothing at all or something like that. It basically said that he pretty much deserves an award for being like the only living thing under the sea that does nothing at all. In this tutorial you too will learn how easy it is to draw Patrick Star step by step with easy to read instructions. I hope you all have fun and watch out for more tutorials to come.....
Step 1
Okay you are gonna start this first step by drawing a big egg shape for his large sloppy torso. Instead of drawing the bottom of the shape round like an egg square it off a bit so it looks like it could stand up by itself. Next draw out the guidelines for his arms and feet or legs since he really has no feet at all. Now draw the beginning steps of his cone shaped head with the facial guidelines drawn in as shown.
Step 2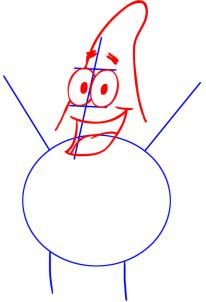 Now next step is to draw out the shape of his two star shaped arms and finish his cone shaped head. Essentially your gonna end up with a star shaped body after you are through drawing out his body. Next draw out the lining for his over sized shorts and begin the lining for his over joyess smile. Before you proceed to the next step, draw the shape of his left leg.
Step 3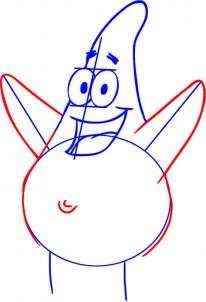 As you can see Patrick Star is already taking form. What you will be drawing here in this step is his big egg shaped eyes and finish drawing his mouth. Scratch in a few lines for his eye brows and a few dots scattered over his body. Make a line for the waits band of his shorts and draw out his right leg.
Step 4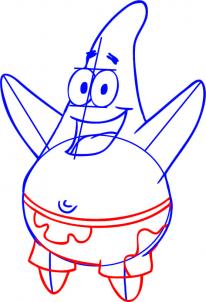 Finish Patrick by coloring in his pupils with dots and then draw those sea flowers on his shorts. After you are satisfied with your drawing you can erase all the guidelines and shapes you drew in step one.
Step 5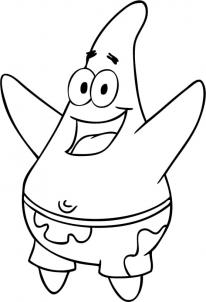 And here you are your finished drawing of Patrick Star. After you clean up your sketch your character should come out looking like this one as you see here. That will conclude this fun tutorial on how to draw Patrick Star from Spongebob Squarepants.

You will find incredible drawing tutorials for kids with step-by-step explanation how to create great drawings. All how to draw tutorials on HelloKids are provided by our partner, Dragoart.com. Pets, Pokémon, fantstic beast and dragons, be sure you will find something to draw on Hellokids!