How to Draw Rhino the Hamster from Bolt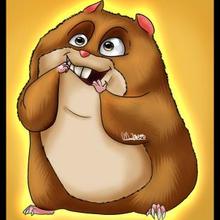 Here is another character from the upcoming Disney animated movie œBolt which is due to be released November 21st. This next tutorial will show you how to draw Rhino from Bolt step by step. Rhino has a very big name for a very small animal. He is a hamster that spends most of his adventurous life inside of a hamster ball. Because I haven't seen the movie yet there is really not much to say about this animated character. But I can tell you how he is explained from several websites that describe what the story of Bolt is about. Now from what I understand Rhino is Bolt the dog's biggest fan from his syndicated broadcast show. The adventure starts for Rhino when Bolt the dog winds up knocking on his door in New York. Now because he is a big fan of the show he immediately lets him in the house and listens to why he is there. Once he finds out that Bolt is going off on an adventure to get back home to Hollywood and to his master Penny, Rhino automatically volunteers his service to help him on his journey home going on the adventure of a lifetime with his all time favorite super hero. I think that he is a very cute hamster and it is sad that he spends almost the trip in his hamster ball. A member from DragoArt requested this character for a tutorial. I mean what kind of teacher would I be if I didn't fill a request made by one of my fellow artist friends. You will learn how to draw Rhino from œBolt step by step. I know you will have fun drawing this adorable character created by Disney. I will be back with more drawing fun in a while so hang in there kids there is more in store.....
Step 1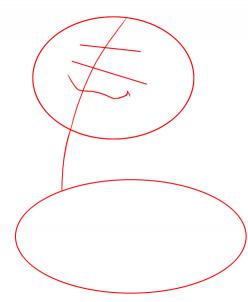 Well here is the first step and now you will start it by drawing a medium sized circle and add the facial guidelines. Draw a long line for the neck and then an egg shape for his bottom body.
Step 2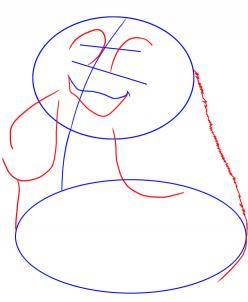 In this next step you will start adding the circle lines for his eyes and then the lining for his mouth. Once that is done you will start drawing the shaping lines for his arms and then the fuzzy lining for his back and then the left line under his left line.
Step 3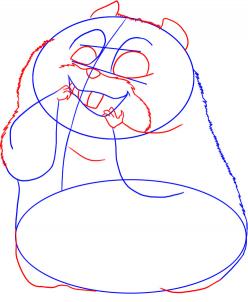 In this third step you will start sketching the head lining and then the shape of his ears. You will then add the circular shapes for his eyes and then draw his little hamster nose and teeth. Once that is done you can then draw out the facial lines and then finish off the the rest of his body lining.
Step 4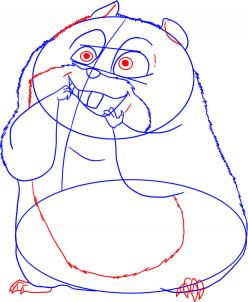 This is your last and final step. What you will do now is sketch out the feet and nails and then add his eyeballs and pupils. Detail his ears by adding the inner lining and finish off the lining of his body to show off his belly. Start erasing all the guidelines and shapes that you drew in step one.
Step 5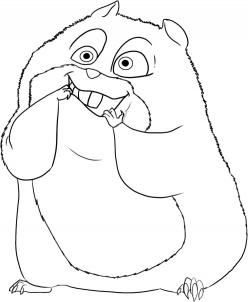 This is what your hamster should look like when you are totally done. All you have to do now is color him in and you are done. You have just learned how to draw Rhino the hamster from Bolt step by step.

You will find incredible drawing tutorials for kids with step-by-step explanation how to create great drawings. All how to draw tutorials on HelloKids are provided by our partner, Dragoart.com. Pets, Pokémon, fantstic beast and dragons, be sure you will find something to draw on Hellokids!