How to Draw Mrs Puff from SpongeBob Squarepants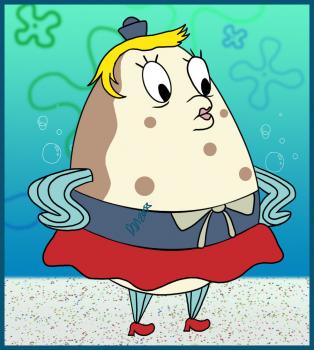 This next tutorial is going to be a bit more colorful and fun because it is pretty easy to draw. For my second drawing lesson I will be showing you how to draw Mrs. Puff from SpongeBob Squarepants step by step. For those of you avid SpongeBob fans I'm sure you know who this sometimes delightful animated character is. She is the driving teacher that teaches at the Bikini Bottom Boating School to teach kids how to drive when it is time for them to get their boating license. Of course she loves her job because if she didn't she wouldn't do it right? Well not necessarily. You see Mrs. Puff only works as a diving teacher because she needs the money, if it was for that reason she would have committed herself to an insane asylum a long time ago. It's not all the kids that aggravate her, it's not even two. Instead it is just one particular student that gets under her scales more than anyone else in the world, SpongeBob Squarepants. SpongeBob must have attended and failed boaters Ed more than one hundred times. There is this one episode where he goes on a physical driving test with SpongeBob and he almost kills everyone on the road including himself and Mrs. Puff. At the end she is more than happy to stay in jail when she was arrested because the cops held her responsible for all the damage that the yellow sponge caused. Mrs. Puff is a puffer fish or blow fish and when she is upset or stressed out she will expand into a ball like shape. I like her character because she can at times have the patience of an angel. In this tutorial I will show you how easy it is to learn how to draw Mrs. Puff from SpongeBob Squarepants step by step. The instructions are simple to read and the steps are easy to follow. I will be back again with more drawing fun so stay tuned into DragoArt.com the best drawing tutorial site on the web.....
Step 1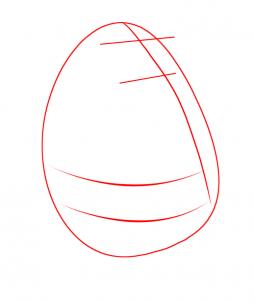 This first step is very simple, all you have to do is draw out a large sized egg shape and then add her facial guidelines along with the skirt lines around the waist.
Step 2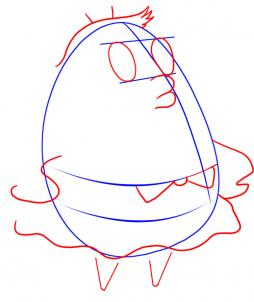 In this second step you will draw out the sway of her hair and then draw the circles for the shape of her eyes. You will then draw out her lips and begin drawing out the swirl lines for her arms and then the ruffle like lines for her pretty dress. Draw two cone like legs and add the lining for her bow tie.
Step 3
Well you have made it to the third step and here you will draw out her hat and finish off the lining of her hair style. Once you are done with that you can add her eyelashes and give her some lip lines. Draw out her fin arms and add the detailing lines. Bottom off her lower part of her body and add the remaining bow tie shapes as you see here.
Step 4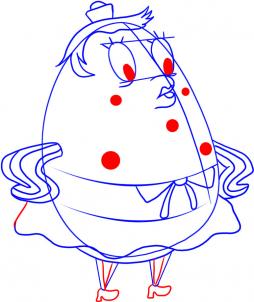 Well this is your last drawing step and all you have to do is add her spots or dots and then her pupils. Detail her legs with a few inside lines and then draw out her shoes. Erase all the guidelines and shapes that you drew in step one.
Step 5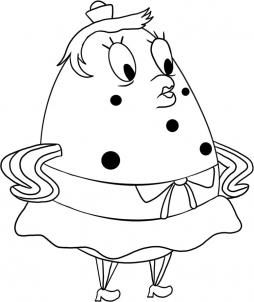 Once you are completely done your drawing should look like this. All you have to do to her now is color her in. I hope you liked this tutorial on how to draw Mrs. Puff from SpongeBob Squarepants step by step.

You will find incredible drawing tutorials for kids with step-by-step explanation how to create great drawings. All how to draw tutorials on HelloKids are provided by our partner, Dragoart.com. Pets, Pokémon, fantstic beast and dragons, be sure you will find something to draw on Hellokids!