How to Draw Cherries Chibi Style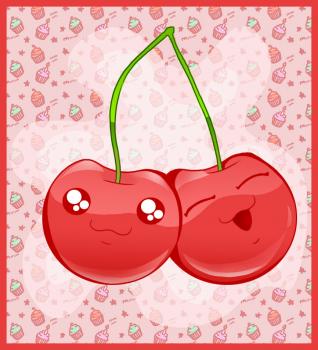 Howdy once again and welcome back to another fun filled lesson on DragoArt.com. I was thinking about what I could submit next that would be cute and popular. After picking my brain for about two hours I finally came up with three ideas and the first one is what you will be learning to do right now. Since I love anime, and I love drawing Chibis, I thought that it would be cool to show you all how to draw cherries Chibi style step by step. The usage of these two pieces of fruit is limitless. I mean you see cherries in slot machines, scratch tickets, air fresheners that dangle form the rear view mirror in cars, and even in certain video games. Since drawing cherries is somewhat big right now, I figured that I would do a tutorial on them but with an added twist. I drew these cherries with cute little Chibi faces on them and I even placed them in the Chibi category under anime/manga. In the background I showered the cherries with frosted cupcakes for all you to love and enjoy. Do I think that this lesson will become a hit? Absolutely, I don't know anyone out there that doesn't love a cherry once in a while. I guarantee that you will have fun learning how to draw cherries Chibi style step by step. All you have to do is follow the simple to read instructions and you will be on your way to Chibi cherry fun. Don't forget I still have two more awesome drawing lessons on the way so stay tuned to see what is coming up next. Peace out!....
Step 1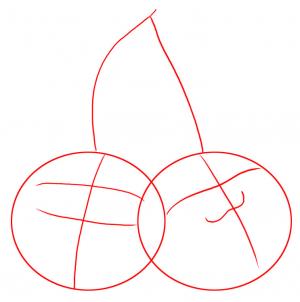 This is going to be so incredibly fun! Lets start this lesson by drawing two circles that are the exact same size for the shape of the cherries. Then what you will do next is draw some facial guidelines and a Chibi mouth line on the right cherry. Add the lines for the stems and move to the next easy step.
Step 2
Now, you will tackle this next step by first drawing the stems a bit thicker and then add a dimple on the top of each cherry where the stem attaches to the seeded fruit. Once that is done you can start using your facial guidelines to draw out two small circles for the eyes on the left cherry and then mouths for both the cherries. Add another dimple under each mouth to define the cuteness.
Step 3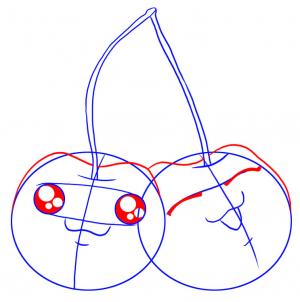 Well you have reached your last drawing step and all you have to do is color in the eyes leaving three small circles uncolored to add glare detail and then the thick eye lines on the right cherry. You will then draw out the actual shape for the cherries body and then begin erasing the guidelines and shapes to clean up your work.
Step 4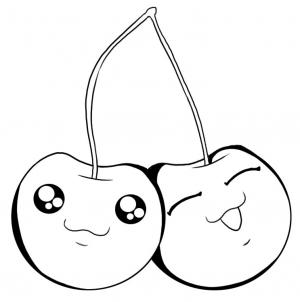 See wasn't that easy? To finish off your drawing just add some shading along the outside of the left cherry and then some shading in between the two where they connect. All that is left to do now is add some color. I hope you had fun learning how to draw cherries Chibi style step by step.

You will find incredible drawing tutorials for kids with step-by-step explanation how to create great drawings. All how to draw tutorials on HelloKids are provided by our partner, Dragoart.com. Pets, Pokémon, fantstic beast and dragons, be sure you will find something to draw on Hellokids!