How to Draw Bessie Higgenbottom from The Mighty B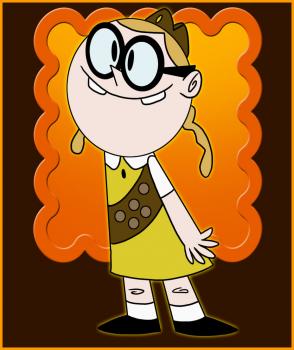 It is now time for another tutorial on a brand new character from Nickelodeon. The show is called œThe Mighty B and the character that you will be getting a lesson on is the main star of the animated series. So let me just say that you will learn œhow to draw Bessie Higgenbottom from The Mighty B step by step. The voice of Bessie is performed by the very funny œSaturday Night Live comedian Amy Poehler. Now I have never watched the series but I am sure that it is wicked funny. I did however watch a brief episode and I did happen to chuckle a bit. Now from my understanding Bessie is a ten year old girl who is a Honeybee scout. Like other comical characters from animated series, Bessie is always forever wearing her Honeybee scout uniform and she is very motivated to earn Bee Badges more than any other Honeybee scout. Bessie has a very friendly face and even though she looks dimwitted, she is pretty smart. She wears glasses, has a lisp, and she also has four friends that she hangs with and they are; her new found dog Happy Walter Higgenbottom, her brother Benjamin Higgenbottom, and Penny. There are two other girls that are in the series as well like Gwen, and Portia. I think that the show will be a big hit over time because Nickelodeon always comes out with awesome cartoon shows. In the mean time let me start you off with this lesson on œhow to draw Bessie Higgenbottom from The Mighty B step by step. I'll be back in a bit with more drawing fun so stay tuned and enjoy yourself while you are surfing DragoArt.com. Peace out!....
Step 1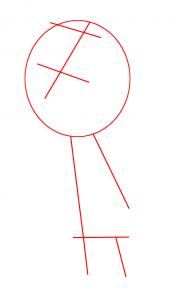 Okay in order to draw Bessie Higgenbottom you will need to draw a circle for her head and then add the facial guidelines. Next draw out the guidelines for her torso shape.
Step 2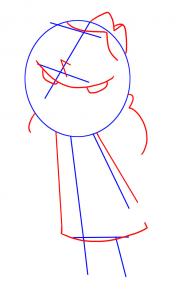 Next you will start this step by drawing out Bessie's Honeybee hat and then her front bangs. Next draw a pointed nose and a smile with two spaced out teeth. Draw the beginning lining for her pigtails and then draw out the shape of her Honeybee scout uniform.
Step 3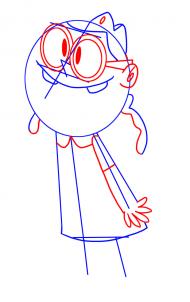 Are you ready to have more fun? What I want you to do now is draw two circles for her eyeglasses and then make a frame out of them Color in Bessie's eyes and then draw out her ear. You will then draw out her arm and hand as well as finish off her pigtails. Give her uniform a collar and then a small circle for her scout hat.
Step 4
Welcome to your last drawing step and now you will finish drawing Bessie Higgenbottom. draw her uniform strap with all her badges on it and then draw out the shape of her legs. You will then add the sock lines and then draw her feet and or shoes. Erase the guidelines and shapes that you drew in step one.
Step 5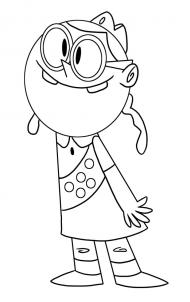 This is what your line art should look like when you are done. All you need to do now is color in this fun character and you have finished this tutorial on "how to draw Bessie Higgenbottom from the Mighty B" step by step.

You will find incredible drawing tutorials for kids with step-by-step explanation how to create great drawings. All how to draw tutorials on HelloKids are provided by our partner, Dragoart.com. Pets, Pokémon, fantstic beast and dragons, be sure you will find something to draw on Hellokids!