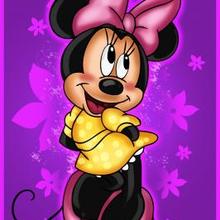 That was a cute anime mouse I submitted wasn't it? I thought I would do another drawing lesson on yet another mouse, but this time she is definitely famous world wide. I am going to show you œhow to draw Minnie Mouse step by stepœ. As you know Minnie Mouse is the significant other to Mickey Mouse in almost all of the Disney shorts. She is the best friend to Daisy Duck and the two were designed to act almost exactly the same. They both wear the pants in their relationships, and they are both very soft spoken and girly. Minnie Mouse made her first television debut in 1928 when she stared in œSteamboat Willie. After that she appeared in over seventy episodes with her boyfriend Mickey and his dog Pluto. In 1986 Minnie finally took her popularity to the next level when she started appearing in her own cartoon shorts with best friend Daisy. After she became even more popular, Disney introduced her two nieces Melody and Millicent in a variety of comics. If you are an avid Minnie Mouse fan you should know that her favorite and common sayings are œWhy, hello! œAren't you sweet, œyoo-hoo and œoh Mickey. I always liked Minnie as a character and I know that you girls will have a fun learning œhow to draw Minnie Mouse step by step. She really is easy to draw and that makes this tutorial even more fun because you won't have a hard time drawing her out. Well, I do have to depart from you all right now but I shall return. I think you guys will have even more fun drawing when I come back with my other characters. Adios amigos and peace out! ....
Step 1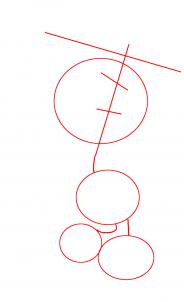 The very first thing you want to do when it comes to drawing Minnie Mouse is sketch out the shapes and guidelines. You will do this by making one circle first and then add the facial guidelines. Next draw the neck line and attach it to another circle shape that will be her body. You will then need to draw two more lines for her legs and then two circle shapes for her feet.
Step 2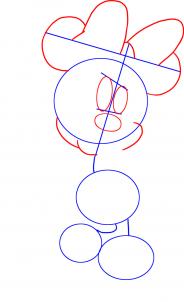 You will start this next step by drawing out the shape of her ears and then incorporate her bow shape with the ears. Next use the guidelines on her face to draw the oval shape of Minnie Mouse's eyes and then draw out the lower sides of her cheeks and then her nose.
Step 3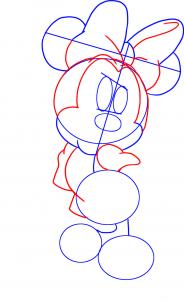 What I want you to do in this step is finish drawing her bow and then add some crease detailing where the bow is tied at. Next draw the shape of Minnie's head and then begin the sketching of her dress sleeves and chest.
Step 4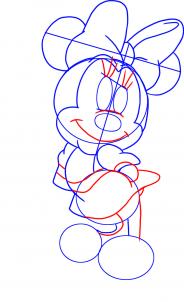 Wow look what Minnie Mouse will look like when you complete this step. What you will do first is give Minnie Mouse some pretty lashes, and then add an arched line to define her nose. Give her a friendly smile and draw out the dress and her arms as well as her legs.
Step 5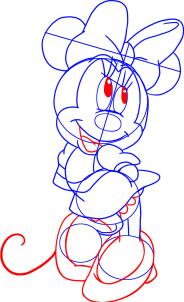 This will be your last drawing step and as you can see you have to do barely nothing except draw out the rest of Minnie's mouth, add her eyeballs, draw the slip under her skirt, and then draw out the shape of her shoes and or feet along with her mousy tail. Erase all the guidelines and shapes and then move to the line art step.
Step 6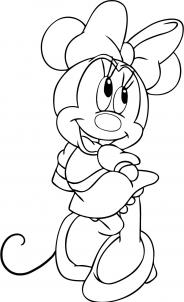 This is what your Disney character should look like when you are done. All you have to do now is color her in using different colored pencils, crayons, or markers. I hope you liked learning "how to draw Minnie Mouse step by step".

You will find incredible drawing tutorials for kids with step-by-step explanation how to create great drawings. All how to draw tutorials on HelloKids are provided by our partner, Dragoart.com. Pets, Pokémon, fantstic beast and dragons, be sure you will find something to draw on Hellokids!
Your comments
1 vote(s) - Average rating 4/5
Tuesday March, 24, 2015 at 02:12 AM
Hi
View other comments