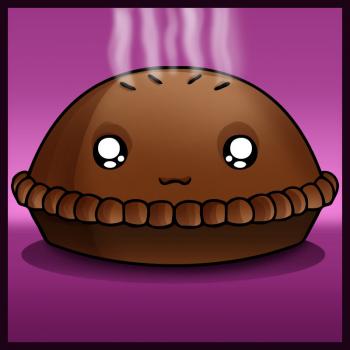 Now that I finally got chibi Gaara up, I can submit a wicked cute lesson that I drew a few days ago. It is something that belongs in the œfood section, and almost everybody loves to eat it. I will show you œhow to draw pie step by step. Have you ever heard of the saying œeveryday is a good day for pie? Well to be honest it's the truth. I mean if you think about it, everyday really is a good day to eat pie. No matter if it's morning, noon or night. I love pie, and I know you probably love pie, so let's get on the ball and draw some pie. Drawing pie is probably one of the easiest things you will ever draw. I mean, if you think about it, all you are really doing is drawing a circle, and adding some ruffles along the edge of the pie, also known as pie crust, and pan. As with all pies, especially homemade ones, there are a few slits on the top that allows the pie to breath when the fruit is cooking inside. Some famous or popular pie flavors are, apple pies, pumpkin pie, blueberry pie, cherry pie, cobbler pie, and even non fruit filled pies like banana, and chocolate cream pie. My favorite kind of pie to eat is chocolate cream pie, and apple pie. Of course pumpkin pie is always good too. Anyways, let me stop blabbering so that you guys can get busy with this tutorial on œhow to draw pie step by step. I shall return once again, so try and keep your eyes open to see what comes up next. Adios amigos!....
Step 1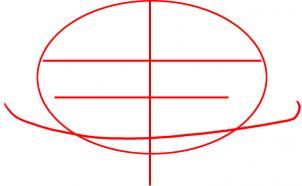 When you are learning how to draw a pie, you need to keep in mind that a pie is made up of a simple shape. You will draw an oval or egg like shape and then add the facial guidelines in the middle for the chibi like face I added as a nice touch. You will then draw the pastry line on the bottom of the pie which we know as the crust.
Step 2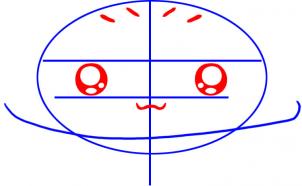 You will now draw a total of four slit lines on the top of the pie, and then draw the shape of the eyes. Color in the eyes, and leave behind three clear or uncolored parts of the eyes. You will then draw a cute chibi mouth and then your pie is almost done.
Step 3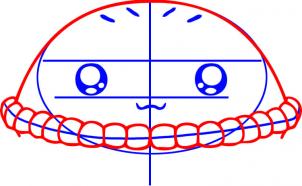 Draw the top shape of the pie and then draw the edging of the crust. This can be done just by drawing circle shapes that are attached to each other.
Step 4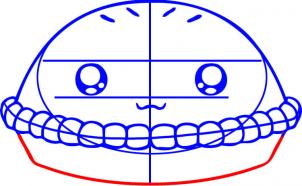 Draw the shape of the pie pan and then you can start erasing all the guidelines and shapes that you drew in step one.
Step 5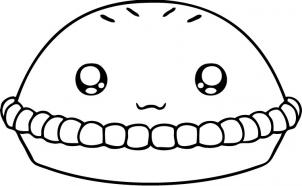 Your pie looks like this when you are done. All you need to do now is pick a flavor and that is it. You have just learned "how to draw pie step by step".

You will find incredible drawing tutorials for kids with step-by-step explanation how to create great drawings. All how to draw tutorials on HelloKids are provided by our partner, Dragoart.com. Pets, Pokémon, fantstic beast and dragons, be sure you will find something to draw on Hellokids!