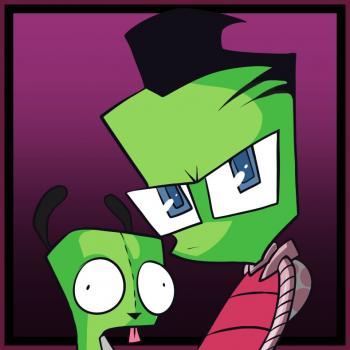 When it comes to drawing characters from Nickelodeon, it is always fun to see how they will turn out. Not only is replicating a particular character fun, it's also almost always easy to achieve such a goal. I think this is because Nickelodeon creates such simple looking figures, which then in turn enables them to be easy to draw. Today, I will be giving you guys such a lesson on two of the most coolest characters that was on the Nickelodeon line-up. Who is this duo you ask? Well, how are you going to react when I show you "how to draw Zim and Gir", step by step? Pretty wild huh? I love Zim, and I love Gir. Because of massive feedback I got from the other tutorials I did on both of these two alien creatures, I wanted to pair them up so you can draw them together. Remember a while back when I was submitting character duos and I said that I was going to upload all sorts of characters that are best known as a pair. Well, I can't believe I forgot all about Gir and Zim. I mean, how can these two icons slip my mind like they did? If it wasn't for my mom, I probably wouldn't have ever thought to "draw Zim and Gir" together. Anyways, I do believe you will be entertained by this tutorial because you should really have no trouble at all tackling this lesson. I will be back soon with some more drawing fun so try and stick around to see what I will surprise you guys with next. Remember, drawing is a tool used to express yourself, so let's all express ourselves freely so nothing gets bottled in inside. Peace out people!....
Step 1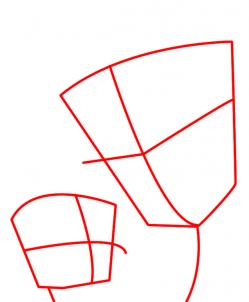 Start by drawing out the shapes of both of the characters heads like you see here. They should be very blocky, and contain some sharp edges. Add the facial guidelines, and then the neck lines.
Step 2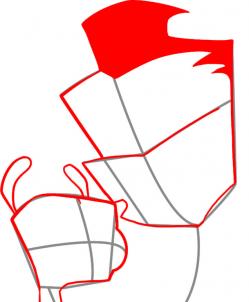 You will now start thickening the lining for the head shapes, and then draw out and color in Zim's hair like so. Once that is done, add the ears on Gir, and then some of the face shape as well.
Step 3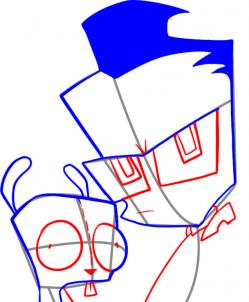 It's now time to draw out the eyes, and make sure that Zim's eyes are blocky, and GIR's eyes are round and bulgy. Next add the shape of both their noses, and then the mouths. Lastly, draw out their bodies too.
Step 4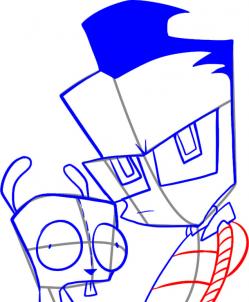 For the last drawing step, you will finish drawing out Zim's body and arm. Add the stripes down his torso, and on his arm like you see here. Erase the lines and shapes you drew in step one.
Step 5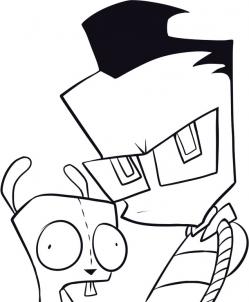 When you are all done, this is how your sketch comes out looking. All you need to do now to finish it off is add some green, and purple coloring. Great job guys!

You will find incredible drawing tutorials for kids with step-by-step explanation how to create great drawings. All how to draw tutorials on HelloKids are provided by our partner, Dragoart.com. Pets, Pokémon, fantstic beast and dragons, be sure you will find something to draw on Hellokids!