How to Draw a Dinosaur for Kids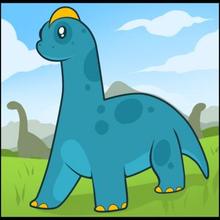 Hello everyone I guess I have another tutorial for the 'for kids' section and I mainly made this tutorial because I never really drew an easy enough reptile for the section that this lesson belongs in. Drawing dinosaurs is something that every kid loves doing when they first start exploring the activity of art. That is why I wanted to make sure that there was an easy lesson that can teach people of all artistic levels "how to draw a dinosaur for kids", step by step. The dinosaur that I drew is what kids know as a long neck or the brontosaurus. Overall the tutorial is very easy to tackle and you should be able to complete it from start to finish in less than ten minutes flat. I think the one of the best parts of this tutorial is how fun it's going to be to color it in. Well that's it everyone, now it's your turn to "draw a dinosaur for kids" and maybe you can draw tow or three of these fantastically cool dinosaurs to make a heard. I hope you have fun, and remember to come back shortly to see what else I have in store for you. ....
Step 1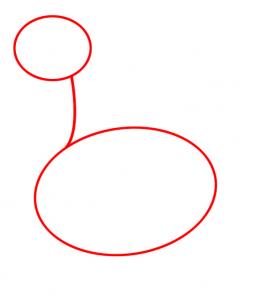 Draw a circle for the head, and then draw a medium sized egg shape for the body of this dinosaur. You will also need to draw a connecting neck line.
Step 2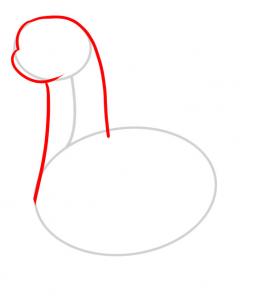 Now that you have the guides drawn in, you can start drawing out the shape of the dinosaur's head, and then the thick shaped neck.
Step 3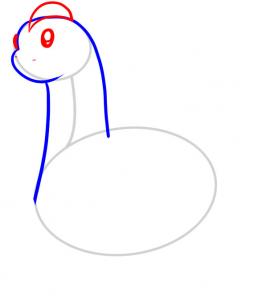 Draw a crown on the top of the dinosaur's head like so, and then draw out two oval shaped eyes. You can then color them in, and move to step four.
Step 4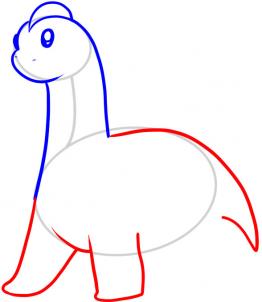 Draw the back and tail, and then draw the thick squared shapes of the front legs. You will also need to draw in a small dash line for the chest.
Step 5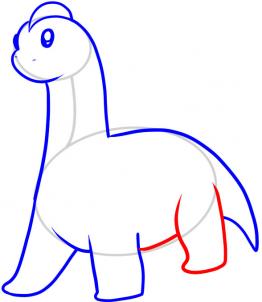 Okay, you are almost done. All you need to do now is draw out the belly and then the hind leg. You can also start erasing all the lines and shapes that you drew in step one to clean up the guidelines you drew in step one.
Step 6
Finally, just draw three toe nails on each foot like you see here to finish this dinosaur off.
Step 7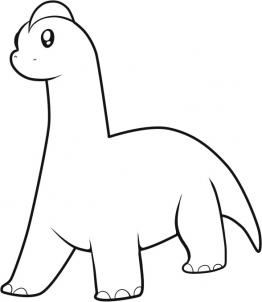 Here is what the dinosaur looks like when you are all done. Now you can color it in to finish this reptile off. I hope you had fun learning how to draw a dinosaur for kids.

You will find incredible drawing tutorials for kids with step-by-step explanation how to create great drawings. All how to draw tutorials on HelloKids are provided by our partner, Dragoart.com. Pets, Pokémon, fantstic beast and dragons, be sure you will find something to draw on Hellokids!