How to Draw a Turtle for Kids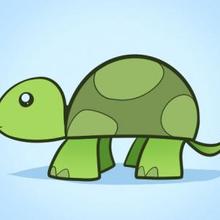 Here is something simple once again and I know some of you guys think that a lot of the lessons here are too easy to tackle or not exciting enough. I do want to say that I have to fill everybody's requests, and I also have to make sure that there are lessons for artists of all artistic levels to tackle. That is why I will be teaching you guys "how to draw a turtle for kids", step by step. Turtles are amazing animals to take on as a fun projects to make drawings out of because there is so many different types of them in existence. Even though they can be tricky to create, once you get the job done you have a fantastic new picture of a turtle. Some famous turtle characters you may know can be drawn as well because Dragoart has tutorials on them too like Franklin, and all four of the Ninja Turtles. I can almost bet that you have fun following this lesson on "how to draw a turtle for kids", because it will be the easiest reptile you have ever drawn. I have to go for now but as you know I will be back. Stick around mates because there is more fun in store.....
Step 1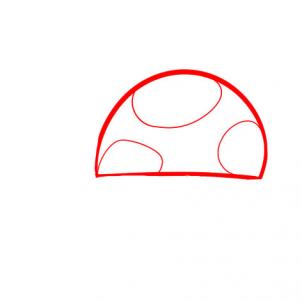 Start with a very simple half circle like you see here and then draw in some round patterned shapes.
Step 2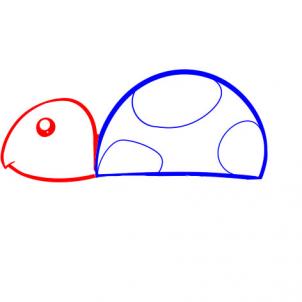 Draw out the turtles head like so, and then make the lip which over laps the mouth, and then draw small circle for the eye as well as color it in.
Step 3
Now you will very easily draw the front legs and feet like so as well as the toe nails. Notice how the turtle's other leg is shorter and hidden from it's full view.
Step 4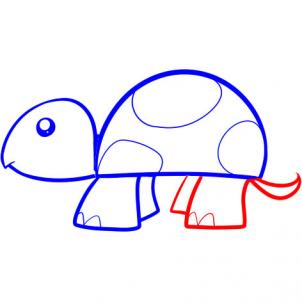 Lastly, draw out the back legs and then draw in the toe nails too. When that is done all you have to do is draw the tail, and you are all done. Clean up the drawing but remember that there was no guides used in this lesson.
Step 5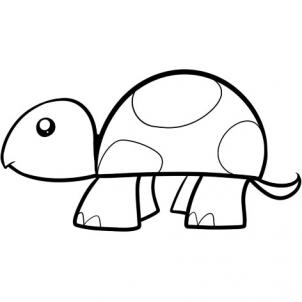 Here is your super cute turtle when you are all done, now you can color it in. Thanks for joining me with another lesson on how to draw a turtle for kids.

You will find incredible drawing tutorials for kids with step-by-step explanation how to create great drawings. All how to draw tutorials on HelloKids are provided by our partner, Dragoart.com. Pets, Pokémon, fantstic beast and dragons, be sure you will find something to draw on Hellokids!
Your comments
2 vote(s) - Average rating 4.5/5
Sunday February, 14, 2016 at 10:51 PM
I kinda like
Monday January, 19, 2015 at 7:10 PM
this is a very east turtle drawing I think this is a bit too easy if u want something easy I recommend something harder than this coz this is really really really easy
View other comments