How to Draw a Werewolf For Kids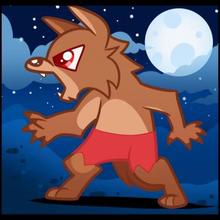 Did you ever think that a werewolf could look awesome and amazing if drawn in a childish way? Well I've got just the lesson for you, and I guarantee that this is going to be a very popular tutorial today that will get a good amount of views. I know that there is a lot of you that love the whole werewolf concept. Based on the facts I wanted to submit something that can show you how to create one of these creatures from lore, but also have fun tackling them in an easy to follow manner. The idea to make a lesson on "how to draw a werewolf for kids", step by step came to me when my little eight year old sister asked me to help her draw a werewolf that looked like the one in the movie œWolfman. I said to myself hmm, how I can show her how to make such a tricky monster easy enough for her to understand and follow. The best way I could show my little sister to draw a monster on a level where she could get the hang of it quickly is to make a kid sized version. The best part about this submission is that anyone can have fun with it even if you're fifteen or fifty. The drawing is a traditional creation that will please anyone that wants to have fun. I guess that's it guys, hope you enjoy drawing a werewolf for kids because I know I had a blast drawing it out. Peace people!....
Step 1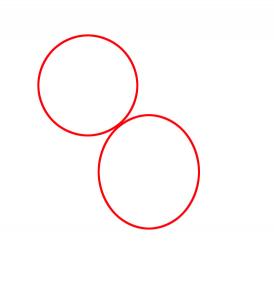 Make two circles, one for the head, and another for the body. Be sure to draw the two shapes close together.
Step 2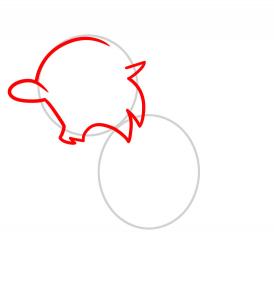 This step is all about getting the first part of the head. Start with the forehead, and then sketch out the rounded snout. You will then draw in the straight line beneath the nose for the open mouth. Sketch in the chin, and then sketch out the cheek, and back of the head. Be sure that the lining is hairy and scruffy looking.
Step 3
Okay guys, draw the erect ears, and then sketch out the back of the werewolf's head. You will also need to draw in two sharp teeth for the top and bottom of the mouth like so.
Step 4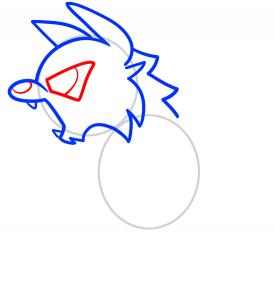 As you can see drawing a werewolf is not that hard when it's done in a for kids way. The only thing you need to do here is draw out the eye with a four sided design. Draw in an eyeball, and then draw out a nose tip.
Step 5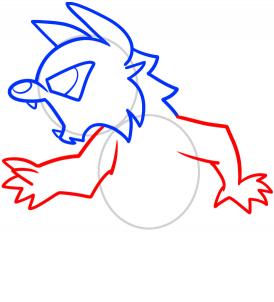 You are already almost done with this lesson. All you need to do here is draw out the arms, and hands or claws. The arms should have pointed corners and the fingers should be pointed as well. This is a very simple drawing concept so be sure to take your time to do it right.
Step 6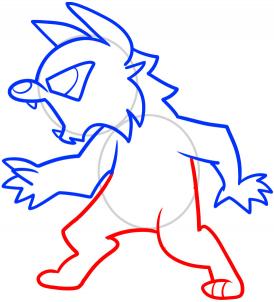 Okay guys, you are only one more step to the end of this tutorial. This step is where you will be drawing out the body, and legs for the werewolf, and then get the feet drawn in too. The right foot should have two lines to create toes.
Step 7
For the final step, you need to draw out the ripped or torn pants. The waist is a straight line, but the pants on the thighs is jagged lined. When that is done draw out the tail, and then clean up the drawing by erasing the shapes and guides.
Step 8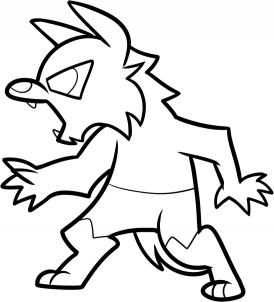 When you're drawing is all cleaned up you have an awesome drawing of a werewolf that even a kid could draw. Color in your work, and enjoy what you have done.

You will find incredible drawing tutorials for kids with step-by-step explanation how to create great drawings. All how to draw tutorials on HelloKids are provided by our partner, Dragoart.com. Pets, Pokémon, fantstic beast and dragons, be sure you will find something to draw on Hellokids!