The winter season is apon us and depending on where you live, the weather can be down right cold, snowy, windy and even icy. Summer may seem far away but there is plenty of winter fun activities to enjoy with family and friends no matter where you are living.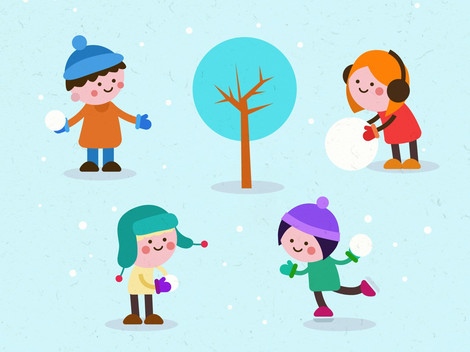 Bundle up and hunker down for some wintery fun
Inside activity ideas
Make a family scrapbook
Make a blanket fort
Bake homemade bread
Have a pajama day
Have a family movie night
Discover your family tree
Make pancakes from scratch
Have a dance party
Play board games
Put on a play
Make paper snowflakes
Invite friends over for a slumber party
Read your favorite book
Go swimming in an indoor pool
Watch the snowfall
Play chess or checkers
Put together a jigsaw puzzle
Write letters to friends and mail
Go to a hockey game or watch one on TV
Make your own playdough or salt dough
Bake cookies (don't forget the milk)
Make homemade soup
Drink hot apple cider or hot cocoa with marshmallows
Sit in front of a burning fireplace
Roast Marshmallows or bake S'mores in the oven
Get crafty and create something
Wear some fuzzy warm slippers
Make a yummy toasted cheese sandwich with some tomato soup
Organize your room or help your parents with a house project
Outside activity ideas
Feed the birds make a pinecone birdfeeder with peanut butter and bird seed
Go sledding
Bundle up and look at the stars at night
Have a snowball fight
Draw pictures in the snow with food coloring
Go snow skiing
Build a snowman or have a snowman making contest
Go on a winter scavenger hunt
Build a snow fort
Catch snowflakes on your tongue
Go ice skating
Make a snow angel
Go snowshoeing or cross country skiing
Build a winter bonfire and bake s'mores
Go ice fishing
Take pictures of winter landscape
Help a neighbor shovel the snow
Summer may be right around the corner but the winter season is certainly a fun time of year to celebrate all on its own. There are interesting things to do during the winter season and there are funtastic activities and coloring pages for you to discover from Hellokids that will keep you entertained. Check out the heart felt fun in our Valentine's Day section, the lucky entertainment in our St. Patrick's Day section or hop into spring to discover a basket full of Easter ideas.  Happy Winter!