Easter Carrot Surprise Box
It is a garden of carrots this Easter!
The small shaped eggs, rabbits, chickens, fish and other chocolate Easter symbols are always difficult to hide in the garden because they are often less well packaged. Yet the children find it exciting to find the little chocolates in the corners of the garden, in flower pots, in trees or under stones.
View the tutorial Easter carrot surprise video, to learn how to make cute little carrot shaped boxes to store a few chocolates in and hide in the garden!
To make carrot shaped boxes you need:
orange or white card stock sheets of paper
wool or green ribbon (30 cms per core)
glue
scissors
a punch
Easter Candy
 
Time: 5 minutes
Level of difficulty: easy, alone from 7 years.
Making a carrot shaped Easter container in 3 steps:
Print Easter carrot template that best suits you at the bottom of the page. There is a large white design to be printed directly on orange paper, another carrot template for printing on white paper or the same models of smaller sizes.
With the scissors, carefully cut the carrot template that you have chosen.
Then mark delicately on each fold of the core along the lines of the model. You can press the folds helping you to a rule.
Applying glue on the strip provided for this purpose. Identified as it is very easy, it's the smallest folded part! Then paste the other end of the core. You have to get some sort of 3D cone. At this stage, you should begin to visualize the shape of a carrot.
Using the hole punch, make two small holes at the top of the carrot in order to close the basket.
This is the time to fill out the core with some chocolates for Easter.
Once your basket is filled with chocolates you will need to close it. Fold the two square tabs inward and take the piece of green wool, double it, slip it into the holes and tie it nicely to give it the appearance of the carrot top.
Your little carrot shaped chocolate holder is finished. Make several, to hide in the garden or decorate the Easter table!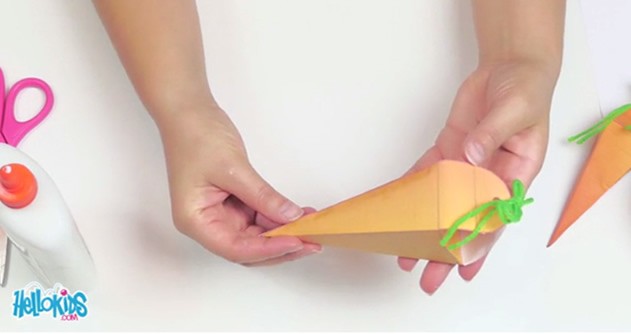 Happy Easter Holidays!