Make a Littlest Pet Shop Case
Do you love to collect the Littlest Pet Shop but when collecting them or transporting them to play with a friend you do not know what to store them in? Discover how to make a Littlest Pet Shop (LPS) case. Your LPS case will be for a one of a kind! Watch this craft video tutorial to help you make this fun and useful LPS case. You can also make one for your friend!
This is a simple craft that allows you to unleash your creativity and put your sewing skills to use.
Materials Needed: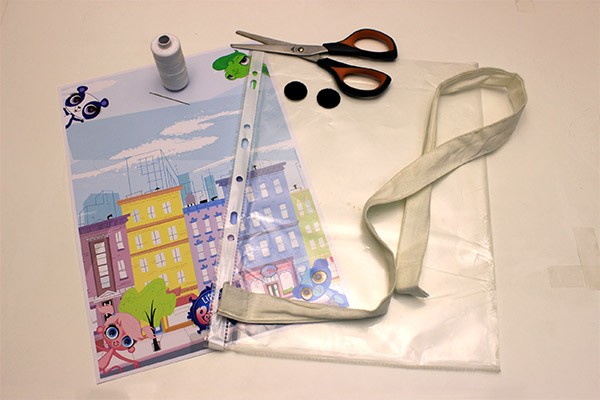 1 sheet protector
1 stapler or needle and thread
20 inches silk ribbon (width about 1 inch)
Velcro for closure
Scissors
Paint, pencils, markers, gold dust, pieces of fabric or whatever you want to decorate the case
Time: 20 minutes or so depending on the design details you add to your LPS case
How to create the case LPS step:
Take the plastic paper protector and use your scissors cut the edge of the sheet that would attach to a binder. You will not need this. Be sure to cut carefully so that the plastic cover stays securley together and attached on all three sides. 



Then put the Littlest Pet Shop template in the plastic. Tips: To further customize your case, you can decorate the template according to your imagination. You can apply glue on the Littlest Pet shop logo to add sparkles, add small pieces of cotton in the clouds or glue real leaves on the trees ...

Giving final shape to the LPS case. Fold sheet into 3 parts. The top - as the front flap should be a little shorter. Mark the folds well. 

Prepare your needle with thread. Take your ribbon and fold in half on the edge of the sheet. (see picture). (The ribbon border is very important because it allows you to close the sides of the case and gives it the finishing touch. Choose a ribbon color that matches your Littlest Pet Shop or choose a color you like.) 

Then sew all the way to the other end using the technique of reverse stitching. Important! Ask an adult for help if you have trouble sewing the corners of the case. If you have a sewing machine you can use it too.

Finally, add the round velcro piece to your LPS case to be able to keep it securely closed. Sticking a part of the Velcro strip on the outside of the case and the other part on the inside of the flap. Be very careful when securing to the plastic that both sides of the Velcro close on each other.

Your beautiful case to keep your Littlest Pet Shop is ready. You're a true artist!. Make more LPS cases using different ribbon and art supplies you like. This is a fun craft to teach your friends how to do too.