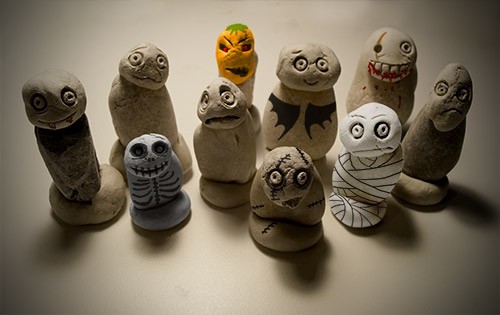 On Halloween monsters and scary creatures come out of hiding! With this craft, you will be able to create your own Halloween creatures. It is not complicated and you can make a chilling tribe of monsters: Mummies, skeletons, vampires, voodoo dolls, scarecrows. You choose your monster designs and here is how to create them...
Materials Needed:
Rocks 
Sculpture Clay that hardens in air (available at art stores) 
Paint brushes 
Skewer 
Paint 
Black felt marker
Glue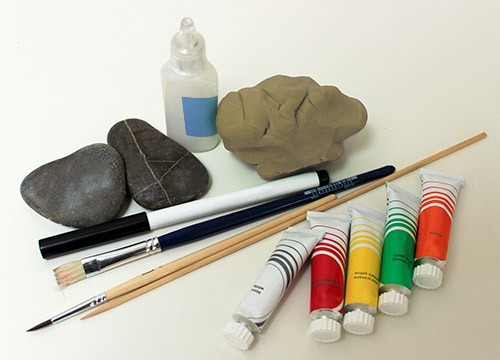 Method for inventing a monster (skeleton):
Whatever monster that you choose to make, the beginning is always the same. First choose a rock, it will be the body of your monster. 
Starts with kneading the dough. As the clay will harden quickly when exposed to the air, you have to shape it promptly and get it a little wet if you see it starting to crack. Form a ball with piece of clay, this will be the monster's head.  
   Take the end of the felt pen and make the impression of the Skeleton eyes.

Make the mouth by using the skewer. For the skeleton make small lines around the mouth.

With another piece of clay, make another ball a little smaller, and flattened it a bit. Then place the rock inside to create the body.

Remove the rock and set aside to dry. This piece will be used later with the same rock as a base to stand your monster character. 

You can do the same with the head, that is to say, push the head gently on the rock and remove it and wait until it dries.
Once the two pieces are completely dry use the glue to secure the body to the base and the head to the rock. The rock should fit exactly into the imprints you made earlier.

Make sure that everything is glued together well and you can proceed to the painting step. As we took the example of the creation of a skeleton, we chose light gray paint. Paint head carefully, the body and the base. Wait for everything to dry.
Then with the black marker, draw all the important details for you to recognize it is a skeleton: black eyes and mouth, two vertical lines for the nose, curved ribs (with the sternum in the middle) and on the base you can even draw the hips. To make sure you draw all these bones to help create a realistic skeleton.
With this method, you can create a lot of strange figures, monstrous or funny. And of course you can add all the details you want. If you created lots of little monsters you'll be able to place around your house for Halloween decorations. A fun idea would to have a Halloween monster hunt and hide the creatures for your friends to discover.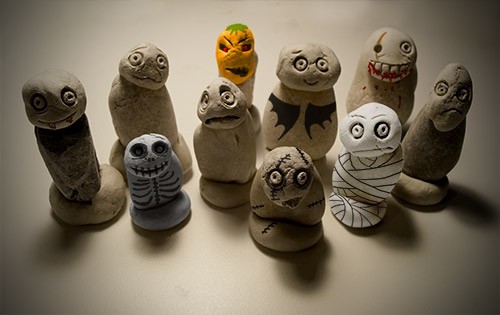 Your comments
1 vote(s) - Average rating 4/5
Thursday October, 23, 2014 at 6:33 PM
Wow
View other comments