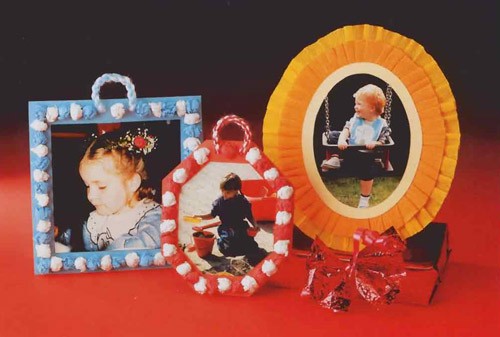 What you need to realize these beautiful frames
Different photos
White cardstock paper
Pencil
Ruler
Scissors
Cardboard for photo frame
Crepe paper
String, yarn or ribbon
Glue
A hole punch
How to make these photo frames:
Print the template of different shaped frames on cardstock paper.
Choose a picture you would like to frame and the shape of frame you would like to make for your picture.
Cut out the frame shape you have chosen. 
Place the photo upside down against a light source. Place the small cardstock of white paper against it and leave it all on the table, ensuring that the picture does not shift.
Then trace the frame pattern and cut the image to the desired shape.
Glue the picture to the Cardstock picture frame shape.
Decorating your Frame!
Crepe Paper Rosettes
To hang the photo frame punch two holes at the top of the frame about 1 inch apart. 
Choose a crepe paper color or colors to match your frame. Cut pieces of about 2 x 2 inches and rolls them into a ball by squeezing very hard.
Glue these crepe paper balls next to each other over the entire periphery of the frame.
Now how to hang it! With the string, yarn or ribbon cut 3 pieces about 18 inches long. Braid the string.
Finally, pass the braided string through one of the holes and secure with a knot. With the other end of the string pass it throught the other hole and tie a knot. The frame is ready, you just need to wrap it and deliver!
Crepe Paper Oval Frame
Cut out the pattern using strong cardboard..
Take two strips of different widths of crepe paper: 1 x 40 inches and 2 x 40 inches (one may be slightly darker than the other).
Glue the widest part around the paper and then the smaller one (see picture)
paste your photo in the center.
Frame it.