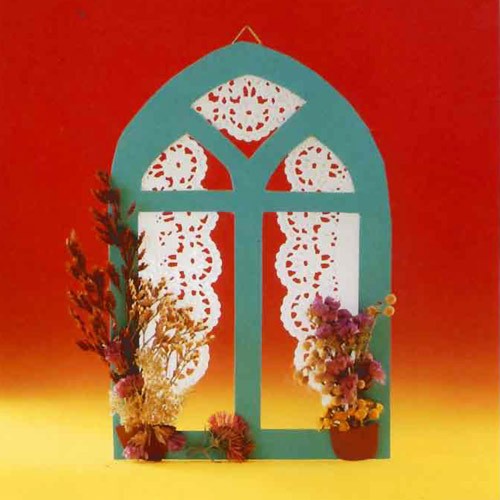 What you need to create this pretty window: 
Heavy cardboard/cardstock
Tracing paper
Pencil
Scissors
Nail scissors
Glue
Pape Doilies
Dried flowers
Ribbon
Felt (for pot)
3 clothespins
Wire or string hanger
This lovely window shaped is easy to create and would make a wonderful gift.
To make it yourself, you have two ways using two different techniques: 
If you want your flowers to be flat against the window pane place the flowers in wax paper and then put between two very heavy books. 
if you prefer a relief image, take the dried flowers instead of real flowers.
How to create this window:
Print the template below. 
Cut it out: use nail scissors for small areas. 
Cut the curtains in lace paper. Place the window on it and choose the part of the lace you want to use. Then pencil traces the contours of the window at the selected location.
Cut the traced lace paper to form the curtains.
Place the flowers on the location of the window and attach them with glue. For pots, use felt or colored cardboard, held in place with clothespins until the glue is dry or wrap a pretty ribbon to make a bow and then glue.