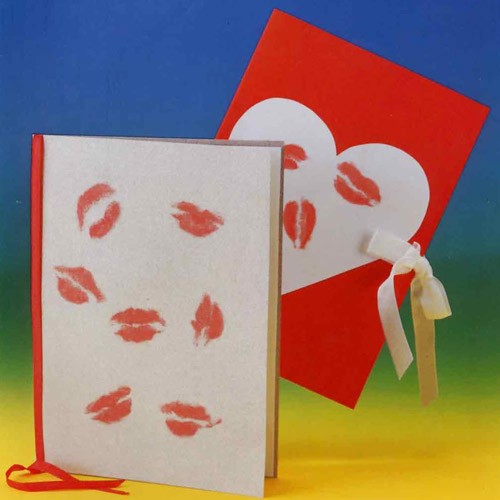 What you need:
White Cardstock paper 
Carbon paper 
Pencil 
Red or gray lightweight poster board 
Sheet of white paper 
Red lipstick 
2 small white ribbons (1/2 x 8 inches each) 
1 small red ribbon (0.5 x 24 inches) 
Upholsterercutter
Scissors 
Glue
How to make this card for that special person you love:
First, print out the template below on cardstock paper. Cut out the heart shape.
Apply your red lipstick. 
Covers the heart designed with "kisses" by pressing your lips in different places inside the heart cut out. Reapply the lipstick as needed.A présent, découpe le cœur et colle-le sur le carton rouge déjà plié pour former la carte.
Finally, take the upholsterer cutter to make small incisions 1/2 inch long in the red card on each end side (see diagram). Pass a white ribbons starting each time from the outside to the inside of the card, which you shall set them with a little glue. Write the text of the card on a normal sheet of white paper and glue it to the inside of the card.
Variation: Add long ribbon around card and tie at the bottom.
You now have a beautiful love card for your Mom for Mother's Day, your Dad for Father's Day or a special person for Christmas or Valentine's Day. Check out all the fun kids crafts on Hellokids.com.