Christmas Elves Place Cards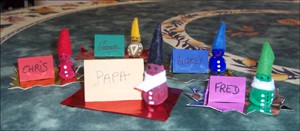 Christmas dinner is a great event and decorating the table is just as fun as is eating the delicious food. Make sure everyone has their very own special seat with this easy Christmas Elves place cards craft. The Elves place cards will bring an original touch to your special evening.
Materials Needed:
Air hardening Clay 
Paint 
Felt 
Scissors 
Glue small white beads, black ... 
Glossy paper in color (gold, silver, red ...) 
Cardboard 
colored craft paper 
Gold felt pen
How to make the Christmas Elves Place Cards:
Begin by preparing small figurines: Two balls of clay. One for the head and another one a little bigger for the body. Wet the base of the head and lay it on the body. As it dries it will stick. Allow your figurines to dry all day so that they harden. 
Meanwhile, cut rectangles from the cardboard and cover with the gloss paper using glue. The cardboard base will provide support. Using scissors you can also make patterns around the edges of the cardboard rectangles: waves, spikes etc ... 
Once the figures are thoroughly dry it's time to paint. Choose a different color for each character. Then let it dry. You can then use a marker to add eyes, a nose and a mouth if you want. 
Cut pieces of felt: rectangles as an scarves, triangles to roll them up into a cone shape to make elf hats. Put some glue on each item and lay them gently on figurines. You can also add a bead to the top hat, black beads for eyes, some cotton to mimic a beard ... you can really get creative!
Glue a Christmas Elf on the right of each place card end. 
Cutting small rectangles with cardstock colored paper, you fold them in half so that you can write the name of each of your guests. Place the name on each stand.