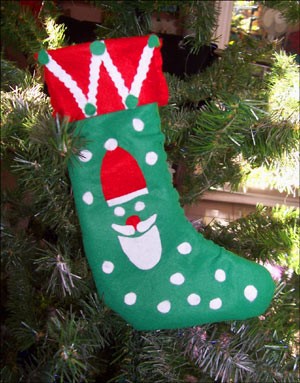 Christmas stockings are stuffed with special treats to be opened on Christmas. Your little Christmas helper will have fun making their very own special stocking or gift for someone.
Materials Needed:
White, red and green felt
Scissors 
White paper 
Pencil 
Glue 
Red, green, white sewing thread
Needle
How to make a Santa Christmas stocking:
Draw a sock on the white paper and a rectangle of the same width. 
Cut these shapes to serve as patron. 
Pin the pattern of the sock on the green felt and cut out two forms. 
Pin the pattern of the rectangle on the red felt and cut out two forms of this model. 
Pin each rectangle of felt on top of each sock. 
Sew together along the top edge only. 
Unfold the flaps then sew together the two socks, except at the top leaving an opening. 
Turn the sock and fold the flap. 
Sewing together the two sides of the flaps. 
Draw shapes in the felt to decorate the sock. 
Make a Santa Claus and snowflakes with white felt. 
Cut and paste these forms on one side of the sock.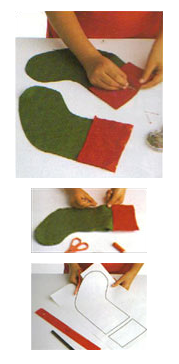 Now fill the stocking with fun surprises and yummy treats. Decorated with a small silk ribbon and adorn your fireplace mantel or Christmas tree with this holiday accessory.