These festive bunny decorations make a wonderful table display to hold Easter eggs and candy, or make to give as Easter gifts for friends and family. This Easter craft is easy and fun to make!
Necessary materials
Cardboard cylinder tubes
Brown paper or crepe paper
Black felt paper
Green cardboard or crepe paper
White sheet of paper
Scissors
Pencil
Glue
White cotton or a pompom
How to make these adorable rabbit candy holders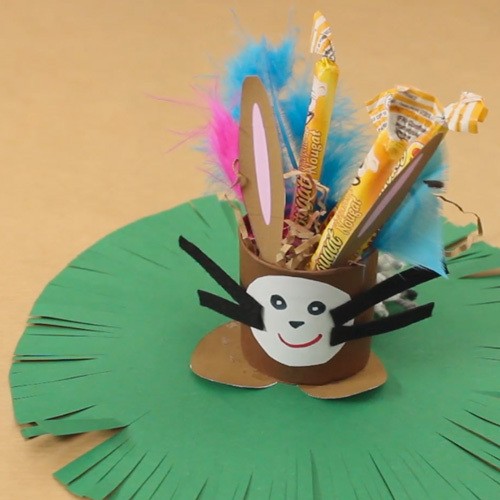 First of all, cut up you Cardboard tube and just keep around 1.5 and 2.5 inches. You can ask an adult to help you with that.
Then measure your container and cover with brown paper or crepe paper. Be sure to cover part of the inside.
Draw a circle on the with sheet of paper smaller than the cylinder tube. Cut it up and draw two eyes, a nose and a mouth on it.
Choose two ears and paws that you like on the template to print at the bottom of this page. Cut them up carefuly.
Cut out two small rectangles in your black felt paper (more or less 0.5x1.5 in).
Now it's time to "dress up" the rabbit. Stick the face and the ears to the cylinder (Attach the ears to the inside of the top of the lid).
You're now going to make the whiskers. Cut the rectangles of felt paper into thin strips. Stick the end of them to the face.
Now, stick the feet to the bottom of the bunny.
Now, the tail. You can make a small tail using this tutorial to make a pompom: "how-to-make-a-pompom". You can also use some cotton. Stick the pompom to the opposite side of the face.
Cut a circle into the green paper (around 7 to 8 in diameter). Cut the paper and make fringes.
Paste the rabbit onto the circle making it look like he is sitting in grass.
You now have a beautifully crafted bunny container decoration to display for Easter!