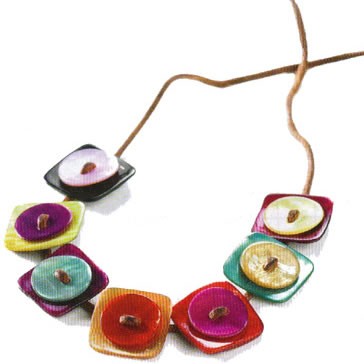 Here is a simple bracelet that is very colorful and does not take a long time to make, just 10 minutes. Ideal for birthday gifts, Christmas, Mother's Day or for Valentine's Day . This colorful bracelet is a perfect anytime gift!
Materials Needed:
Pearl buttons and leather buttons
Leather string
It takes about 20 buttons, but it all depends on the size of the wrist and the size of the buttons. For the leather string, use 6 to 8cm in length.
Production time: 10 minutes
Estimated cost: approximately 8$
Useful information before choosing your buttons and leather string:
Use assorted buttons in different shapes and sizes to create a bracelet: there are pearl buttons of all colors and all shapes. You can even find heart-shaped , flower, fish or animals ...
Use two different size buttons for this bracelet because you will be placing the smaller button on top of the larger button. ( as pictured ).
Regarding colors and design, chose according to your tastes or the taste of the person you would like to offer the bracelet to. If you do not know what to choose, look at the colors of clothing usually worn by the person and you will be sure that the bangle you create will go with her ​​favorite outfit!
Use leather string that matches the leather and pearl buttons. For example, if your buttons are rather dark , choose a dark leather color (black, brown ...) and for lighter buttons choose lighter colored leather string (yellow, sky blue , light pink ...).
How to make a button bracelet:
To create the bracelet, it is very simple! Choose you buttons and place the smaller botton on top of the larger button and thread the leather string through the button holes alternating colors to make it prettier.
Tie each end of the leather so the buttons do not slide off.
And if the end result does not please you, do not hesitate to start again!
You could also coordinate a necklace with the bracelet. Be sure to make your leather strin much longer for a necklace.
A wonderful gift to make for anyone for special occassion or events, birthdays, Holidays: Christmas, Valentine's Day, Mother's Day, etc...This craft is a fun craft activity for any age. You can make some really unique pieces so use your imagination.