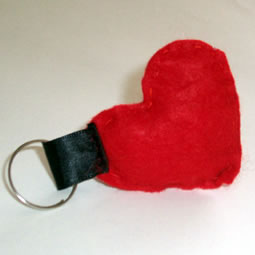 Create this sweet heart keychain for your Valentine to put on a backpack or use for their keys. Your Valentine will be sure to think of you wherever he/she goes.
Materials Needed:
Red felt
Black satin ribbon ( or another color if you prefer )
Scissors
Pencil
Red & black thread
Needle
Loop keychain
Cotton
How to make a Heart keychain:
Start by cutting a piece of felt about 10 cm by 20 cm.
Fold the piece of felt in half crosswise ( overlaying the two shorter sides).
On one side , draw a heart in pencil.
Then cut the heart out you just traced. You then get two hearts exactly the same.
With a sewing needle and thread, you can now sew the two hearts together leaving a opening tp stuff the cotton into.
Stuff the cotton into the section you have not sewn. Be sure to add enough cotton for a puffy heart but not too much.
Finish sewing the edges of the heart closed and you have a big fluffy felt heart.
Cut a piece of satin ribbon of about 5 centimeters.
Pass through Ring keychains inside to form a loop.
Using black thread, sew each side of the ribbon to the felt heart. Folding in the ends of the ribbon will create a polished edge and the ribbon won't unravel.