Chocolate: A Valentine's Day Custom
page 1 / 2
Heart-shaped boxes of chocolate and chocolate roses abound on Valentine's Day.  But just how much do we spend on chocolate each year.  Last year, we bought more than $345 million dollars worth of chocolate!  Here are a few more fun facts about Valentine's Day consumption:
58 million pounds of chocolate candy will be purchased the week before Valentine's Day
In addition to the $345 million spent on chocolate for Valentine's Day, an additional $103 million will be spent on other Valentine's Day candies like candy hearts.
More than 35 million heart-shaped boxes of chocolate will be purchased for Valentine's Day sweethearts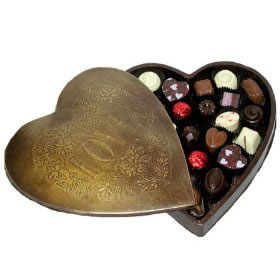 From Hot Chocolate to Chocolate Bars
Hot chocolate, chocolate sauce, chocolate chip cookies.  Chocolate is one of Americans favorite flavors, which is especially true on Valentine's Day.  But, who made all of these treats possible?  The story of chocolate spans nearly 2,000 years but had its origins in the tropical rain forests of the Americas. 
The Maya and Aztec people were the first to harvest cacao seeds.  They blended the seeds with various seasonings to make a spicy drink that was enjoyed mostly by royalty and other people of stature.  In fact, cacao seeds became so prized that they were used as a type of currency in the Aztec culture.  Spanish conquistadors recognized its value and began to import them to Spain where new recipes were invented.  The Spaniards, who unlike the Maya and Aztec civilizations, had access to sugar and other spices, like cinnamon.  They added these to the chocolate drink and what we know today as hot chocolate was born.  Like the Maya and Aztec civilizations, this sumptuous drink was reserved mainly for royalty.  Considered a delicacy, special porcelain chocolate cups, with two handles, a lid and a saucer, were created so that the nobility could enjoy the drink without staining their clothes.  The Spaniards even managed to keep their treasured chocolate drink a secret from the rest of Europe for nearly 100 years before the craze took the rest of Europe by storm.