"Joan of Arc was a deeply religious country girl, with the practical common sense of one who had worked on a farm since childhood. The English soldiers believed she was a witch and were afraid of her; the French soldiers believed she was a Saint and followed her. The French courtiers and bishops were jealous of her and betrayed her. Who shall say which was right? All we know is that she saved France." (Ladybird Books Ltd, 1971).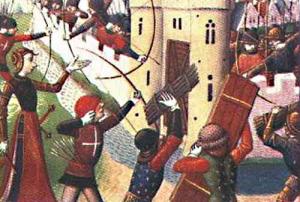 Joan of Arc is called "the Maid of Orleans ", as she had saved this city which had fallen to the English hands. From a modest family, she is a French heroin. Her quest started in 1425, when heard the voices of god in dreams. She asked for an escort to accompany her to Chinon, where the Dolphin (Charles VII) was holding far away from its enemies. She obtained the escort only in 1429, going from Vaucouleurs and reached Chinon a little later. 
Joan had an interview with the Dolphin. The latter, convinced by Joan's mission, entrusted her the command of the army. Joan was then aged only seventeen. The same year, Orleans was delivered. One year later; Rheims was released and the Dolphin was crowned king of France. But the advisers of the king are jealous of the influence Joan has at the court; they will betray her and convince the king not to send reinforcements to the head office in Paris, then controlled by the English.


Joan was captured by the people of Bouguignon, allied with England in front of Compiegne in the year 1431. The same year, the lawsuit of Jeanne took place because she had been denounced and delivered to the English by the people of Bourguignon. The Maid refused to disavow the voices she would have heard. She was condemned to be burned at the stake. It is told that her heart did not burn in the stake. She marked the French history and saved France.
She was canonized (indexed in the book of the saints) in 1920.