Charles Spencer, or Charlie Chaplin, was born April 16th, 1889, in a poor area of London: East Lane. According to experts, there exists no birth certificate, nor baptism certificate that proves that Chaplin was really born that day –t hus four days before Hitler as he used to say. His origins are a total mystery.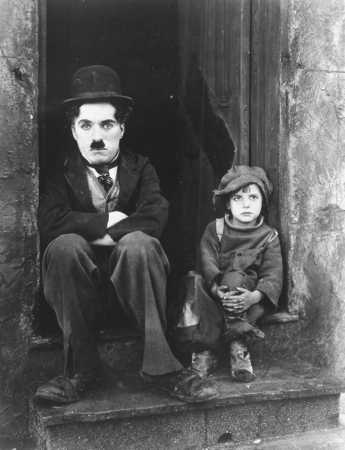 His father, Charles Senior, was a music-hall singer well-known for his baritone voice. Alcoholic, Charles Senior died at age 37 of a cirrhosis of the liver. According to Charlie, he knew him little but noticed the silent and melancholic side of his father.

His mother, Hannah Hill, passionately loved acting. She was a dancer or an actress under the name of Lily Harley.

Charlie first appeared on stage in 1894 when Hannah found herself voiceless during a representation. Despite the "boos" of the crowd, Charlie decided to take over from her –but his mother was nevertheless fired.

Hannah, alone with her two children (Charlie and Sydney), and her health declining, was admitted to the clinic in June 1894. Her two children were confided to the Health and Social Security Services from where they were sent to school at Hanwell.

Later, while Chaplin was at the height of his fame, Hannah moved to live next to her son in the Californian region where she stayed until her death on August 28th 1928.
Hannah had three sons but from different fathers.

The eldest was Sydney, whose biological father's name we ignore. Sydney and Charlie experienced mostly the same things together: school at Hanwell, many moves, work very young, members of the theatrical company of Fred Karno.

Born on August 6th 1885, and thus, being four years older than Charlie, he will become his right-hand man.

The third son Hannah had was Wheeler Dryden. He was kidnapped six months after by his biological father.

Nevertheless, in 1917, he became a full time and permanent employee of the Chaplin's studio.

When Hannah lost her job, Charlie had to accept her fate eventhough he felt ashamed she had to go to the hospice despite her young age. It was a very difficult period for him to leave his mother since he really loved her.

A few weeks after the hospice episode, he was transferred to the school of Hanwell –school for orphans and abandoned children. He and his brother Sydney stayed there about a year before their mother picked them back up.

He pursued his studies until he became a member of a troupe of tap-dancers: the Eight Fellows of Lancashire. He stayed there a while.

Later, her mother returned to the hospice, leaving her son alone while Sydney joined the navy. He had to manage by himself to meet his needs.
In 1903, Chaplin acts for the first time in Sherlock Holmes. In 1908, five years later, he signed a contract with Fred Karno, and was enthroned in his theatrical troupe, thanks to his brother.

After many jobs and various theatrical troupes, Fred Karno –well-known beyond the frontiers of England, gave Charlie the chance to be known.

At 19 years old, Charlie became a real star. He played in various sketches and plays.

After his first tour in the USA, he settled there in 1912.
Charlie was seen for the first time on a screen in 1913 in a Keystone Film Company production, under the direction of Mack Sennett. He created at that moment the character that will be world-wildly known: Charlie, in the movie entitled: "Charlie is Happy of Himself", by Henry Lehrman.

Very quickly, he became himself a film-maker and directed the character in films such as "The Vagabond" (1915).

Partner with different companies of production, he finally created his own studio in Hollywood, in 1918.

Gradually he developed his character, making him evolve from the lively and comical stereotype to a more and more complex person who, still remaining comic, took a melodramatic dimension.

In 1919, with DW Griffith, Douglas Fairbanks and Mary Pickford, he founded the United Artist's Corporation Company; and was a member of it until 1952.

Among his numerous films, there is: "The Kid" (1921), "The Pilgrim" (1923), "The Gold Rush" (1925), "The Circus" (1928). His last colour film, "A Countess from Hong Kong (1967), remains little unknown since he disappointed most of all his fans.

In 1931, Charlie started an international tour and received the Legion of Honour in Paris. He then met Paulette Goddard in July 1932 who offered him a contract.

In 1936, they both flew to Japan where they secretly got married. Their secret was kept until their divorce on June 4th 1942.

In October 1942, Charlie met Oona O'Neil and married her the following year. Together, they had a girl born in 1944 and a son in 1946.

On June 12th 1947, a member of Congress asked for Charlie's expulsion, suspected of liking the Soviets.

In 1949, Charlie and Oona have a second daughter, then a third one in 1951.

On September 1952, the Chaplin family left New York for Europe. Two days later the return-visa abrogated.

On January 5th 1953, the family moved to the manor of Ban, at Corsier-sur-Vevey, in Switzerland.

On August 23rd of the same year, Oona had the fifth child of Charlie: a boy.

In 1954, Oona renounces the American nationality.
In 1956 and 1959, Oona and Charlie have two other girls, then another son in 1962.

In 1965, the elder brother of Charlie, Sydney, died.

In 1968, the first son of Charlie died.

In 1972, aged 83, Charlie went to the USA to receive an Oscar of Honour in Hollywood, then a Golden Lion at the Film Festival in Venice. Three years after, he was knighted by Queen Elizabeth II.

He died on December 25th 1977, while sleeping, at age 88.