In the 2100s, the megacorporation Buy 'n Large has assumed every economic service on Earth. Overrun by un-recycled waste, the planet became so heavily polluted that it could no longer support life. Thousands of adaptable robots known as WALL-E (Waste Allocation Load Lifter-Earth-Class) were left on the Earth to clean up the planet. However, seven hundred years later, only one WALL-E remains operational. After centuries of living in micro-gravity, the humans aboard the ship Axiom, have lost considerable bone and muscle mass, rendering them too obese and weak to stand or move without robotic assistance. WALL-E's centuries of prolonged activation have caused him to develop a personality. By constantly watching a videotape of the 1969 movie Hello, Dolly, he develops emotions. One day, he meets EVE (Extraterrestrial Vegetation Evaluator), a feminine robot from the Axiom sent to Earth to find plant life. He falls in love with her.
WALL E (Waste Allocation load Lifter Earth-Class) is programmed to clean up the planet, one trash cube at a time. He's extremely curious, highly inquisitive and a little lonely.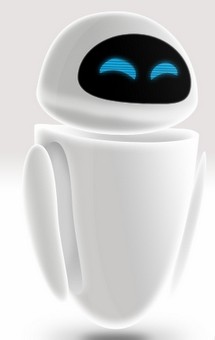 EVE (Extra-terrestrial Vegetation Evaluator) is a sleek, state-of-the-art probe-droid. She is fast, she can fly, and she is equipped with a laser gun.
You will discover a galaxy of Wall E coloing pages, videos, and fun activities to enjoy from Hellokids.
Click to print and color all WALL E coloring pages!