Paper Punk Jewelry Kits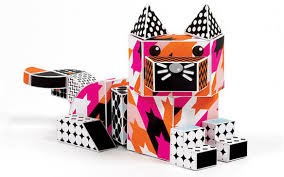 Whether you are looking for a new innovated toy, Valentine's Day gift or perhaps a birthday gift these new paper gems you fold, design and wear, you will be ready for any occasion. New for 2015, Paper Punk has two new themed kits, the Paper Punk  Fold - Triangle ($19.95) and Paper Punk Jewelry Fold - Square ($19.95). The kits contain punch-out shapes to create, build, and ponder into a 3D piece of art. There are other designs as well: Robot, Dog, Cat, Teenage Mutant Ninja Turtle, Snowguy, Horse, Snake, Monkey and even a City. Founded by Grace Hawthorne, she invented a series of kits that require imagination and not much else. You must use your hands to think - no gadgets, no glue!
Paper Punk Jewelry is like merging Lego kits with the art form of origami. The new jewelry kits make an entire jewelry set - one necklace, two earring sets and one bracelet. You can order your Paper Punk sets online or find them on toy store shelves.
Discover other fun kids craft and activities from Hellokids.com.