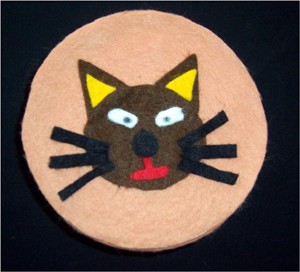 What you need:
Empty Box (available at your local craft store)
Felt: pink (enough to cover the entire box), brown, black, yellow, red and white plus a large black square piece
Glue
Scissors
Ruler
Pencil
Black marker
How to
Here is a simple and cute box that would make a perfect gift for anyone! In our example we have drawn up a cat box but you can be creative and replace the cat with the animal of your choice!
Begin by turning the box top upside down on top of the pink piece of felt. Use your pencil to trace the outline of the box top onto the felt.
Cut the round outline out and glue it to the top of the box. measure and cut felt pieces to cover your entire box.
Cat details: Trace a smaller circle on the brown felt to create the face. Cut 2 triangle shapes in brown for the ears.
Glue the cats face and ears on top of the box lid.
Cut two small triangles smaller than the ears for the inner ear of the cat in yellow. Glue the inner cat ears on the lid.
With your red felt cut your mouth shape (see picture) and glue at the bottom of the cat face.
Cut the nose using the black felt. Cut a small circle and glue.
Cut the two small eyes using white felt and glue them to the face. Using a black marker make the pupils inside the eyes.
Finally, cut 6 this strips of black felt for the whiskers and glue 3 on each side of the cat face.
That's it! Your cat box is now complete and ready to use.