Mobile: the sun, moon and the stars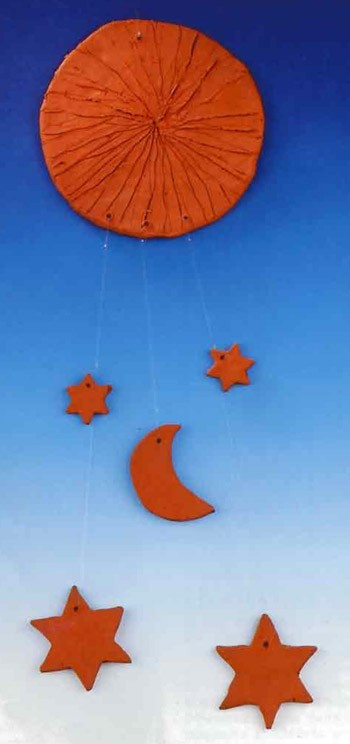 What you need to realize that mobile: 
clay
a cutting board
a rolling pin or bottle
a sharp knife
a skewer
molds to cut two stars of different sizes and a crescent moon
a bowl (13 cm diameter)
a cup of water
solid cardboard
nylon string
How to make this "Sun, Moon and Stars" mobile:
This terracotta mobile represents "the sun, moon and the stars" and will produce a very nice effect when swaying from the blowing wind. Not only is it very pretty, but it works like a chime. Driven by the air stream, the clay forms oscillate and produce a beautiful sound.
Put the cutting board on the table, fill a cup of water and place the plastic film wrapped clay block on the board.
Cutting a portion of clay from about 1/2 inch thick. Immediately covers the rest of the block to prevent the clay from drying out.
Spread the clay with a rolling pin or bottle. keeping the roller wet with water to prevent the clay from sticking to the cutting board.
Then press a bowl approximately 5 inches in diameter and cut against the clay with a knife a circle following the contour of the bowl.
Determine the middle of the circle and make a mark with a skewer. Then draw with the tip of the knife rays coming from the center to the edges of ton soleil. The intervals between the lines will be irregular. Do this same thing on the other side of the sun disc.
To attach the stars and moon punch 3 holes with one side of the skewer 3 inches apart. The sun is over.
Move on to the moon and the stars. Flatten some clay and cut with cookie cutter molds, a crescent moon, two large and two small stars. Remove the excess clay with knife.
Pierce a hole at the top of each cut out. This will be used to hang the pieces to the mobile.0
Leave all pieces to dry for a week on a piece of heavy cardboard. Then, carry them to the oven to cook and enamel.
Connect the different parts with some nylon string as shown in the illustration. Being sure that each piece is tied securely. Securing the sun after a double nylon thread tied at the top.