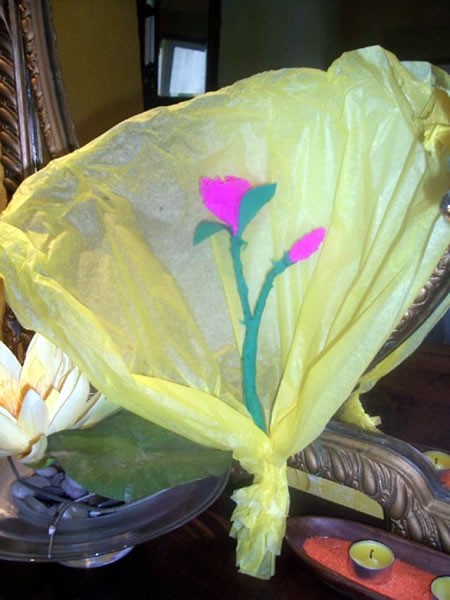 Materials Needed:
Crepe paper and tissue paper in assorted Valentine colors and patters if desired
Green florist tape
Green sheet of thin foam
Pieces of cotton
Thick iron wire or paper wrapped stem wires
Sewing thread
Scissors
Craft Glue
How to make a Tissue paper flower:
Cutting the stem use a thick piece of iron wire.
At one end , put a piece of cotton and cover with your colored crepe paper. This will be the flower bud!
Now cut a strip of crepe paper about 5cm wide.
Fold it several times until you get the width of a petal (about 3cm) and then cutting the top edge rounded.
Unfolding the paper web, you get a garland of petals that you just wrapped around the flower bud. Securely attach to the base with sewing thread.
To make the leaves, draw 4 identical leaves on thin foam sheets and cut them out .
Cut a pieces of wire, lay it in the middle of the leaf sheets that you cut. Cover the entire surface of glue then cover it with another leaf sheet. The wire is trapped between the two foam sheets!
Do the same with the other two remaining leaves.
Covers the entire stem with green crepe paper, placing a drop of glue to the end.
Then you just have to wrap the stem of each leaf around the stem of the flower.
Cover the complete flower stem with crepe paper, as you did for the leaves.
Use tissue paper to create a fancy outer wrapping for the flowers and gather at the bottom to secure with a lovely ribbon.
You now have a beautiful flower to give to your favorite Valentine.