Write Your Letter to Santa
Have you been a good boy or girl this year?
Santa is checking his list, he's checking it twice, he's gonna find out who's been naughty or nice...what list do you think you are on?
We are now less than 3 weeks away from Christmas and there is still time for you to write your letter to show Santa Claus that you deserve to receive all your wishes under the Christmas tree. At Hellokids we have interviewed Santa Claus about his tastes to be sure to provide the best design to our Christmas lined papers for kids. Choose between the beautiful collection of free printable handwriting papers especially made for Santa's letters, and begin to write your own Christmas letter.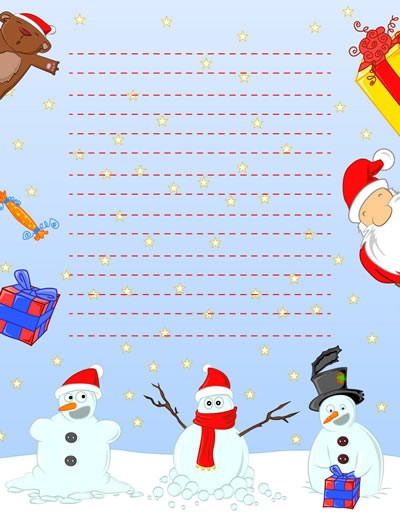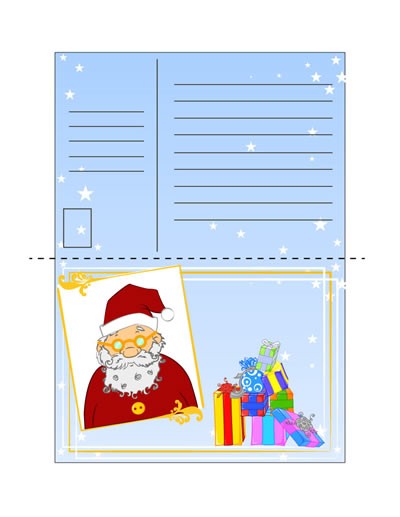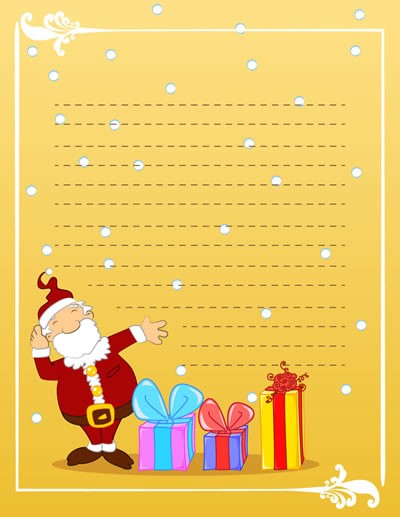 How-to write the best letter to Santa
All over the world, children send letters to the North Pole, letting Santa know what gifts they would like to receive for Christmas and it's not so easy to be creative, honest and thankful. Here are some good tips to write the best letter ever to Santa Claus:
Be sure to find Santa's correct address at The North Pole. Write it carefully and neatly on the envelope and don't forget the stamp!
Write a rough version of your letter to Santa on a rough book first.
Begin your letter with your own kind words (My Dear Santa Claus, Beloved Santa ...).
Dedicate the first paragraph to you. Tell him your name, age, class, where you live, describe your family, speak about your friends, your hobbies and don't forget to tell him if you have been good, very good, naughty or half-naughty half-good during the past year. Be careful! Santa Claus is not naive, he will appreciate to know that you have been naughty sometimes (as every kids do). You just have to show him these mistakes have helped you to become a better person and give him some examples.
Dedicate the second paragraph to him. Give thanks to Santa Claus for the gifts you received last Christmas.
Then write the Christmas list for you and your family.
End your letter by saying "hello" to the Santa's helpers, Rudolph the red-nosed reindeer. Don't forget Mrs Santa Claus.
Once your rough letter seems perfect to you, print your favorite Christmas writing paper and copy your letter on it.
Finally, you can draw some Christmas symbols and hearts.
Close the envelope and send your letter. Now, you just have to enjoy this Christmas period until December 25th. Don't forget to be a nice and happy child.
Santa's Address:
Santa Claus House
101 St. Nicholas Drive
North Pole, AK 99705
Write Merry Christmas greeting cards as well
Have you thought about sending a Christmas letter to friends and family, giving as a gift or writing a Merry Christmas message? The NEW Christmas writing paper was designed by Hellokids for you to do just that with Christmas style. There are several Cheerful designs to choose from to help you write holiday greetings, letters to Santa or anything Christmas you would want to note. Print these fun Christmas writing paper designs and start your Christmas fun today!
Check out our other fun writing paper designs and Christmas Greeting cards that Santa Claus and the whole family will enjoy!
Your comments
2 vote(s) - Average rating 4.5/5
Saturday February, 20, 2016 at 8:36 PM
THIS IS A FUN GAME TO DO
Wednesday February, 18, 2015 at 5:45 PM
I LOVE IT
View other comments