Popeye the Sailor Man
This famous cartoon sailor is over 85 years old, the first of a legion of comic strip superheroes. Among other miracles he persuaded the children of the world to eat thee spinach.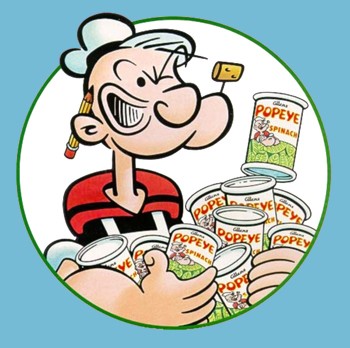 History:
He made his entrance in the mighty Hearst newspaper chain on January 17, 1929, in a comic strip drawn by a genius named E. C. Segar. You can recognise him by the corncob pipe poking like a periscope above the enormous jutting jaw, by the anchor tattoos on skittle-shaped forearms, by the cap and bell bottoms and the one eye that gave him his name.
Characters: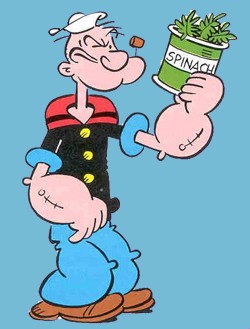 Popeye
Popeye is a sailor with a unique way of speaking, muscular forearms with two anchor tattoos, thinning gray hair, and an ever-present corncob pipe. Popeye is depicted as having superhuman strength.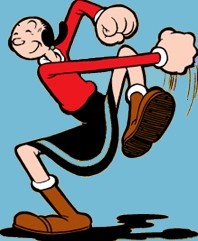 Olive Oyl
Olive Oyl has been Popeye's sweetheart for over 77 years. Unlike most modern damsels in distress, Olive Oyl is tall and skinny, with short hair and enormous feet. In the films and later television cartoons, Olive Oyl is Popeye's girlfriend. She constantly gets kidnapped by Bluto, but Popeye always rescues her, winning her affection in the end.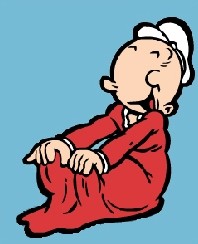 Swee'Pea
Swee'Pea is a baby found on Popeye's doorstep. Popeye adopts and raises him as his son, or, as he puts it "boy-kid". Initially Swee'Pea's speech consisted entirely of the sound "glop". As the years went on, Swee'Pea apparently aged enough to speak normally. However, his appearance remained that of a crawling baby.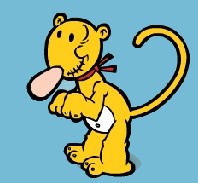 Eugene the Jeep
Eugene the Jeep is Popeye's pet. A Jeep is an animal living in a three dimensional world-in this case our world- but really belonging to a fourth dimensional world.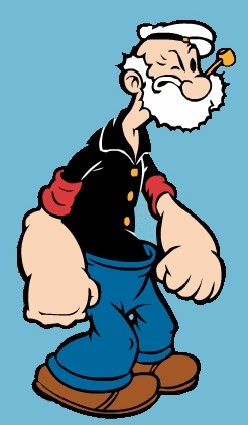 Poopdeck Pappy
Popeye's father does not share his son's moral righteousness and is represented as having abandoned Popeye in some sources.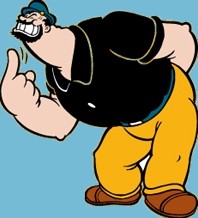 Brutus
Bluto or Brutus is Popeye's nemesis. He, like Popeye, is attracted to Olive Oyl, and usually attempts to kidnap her. However, with the help of some spinach, Popeye usually ends up defeating him. Bluto is a large, bearded, musclebound man. He mostly uses his physical brawn to accomplish what he is trying to do.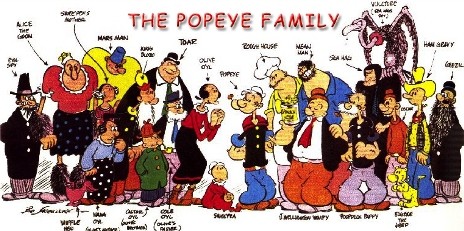 Discover a great selection of superhero Popeye and his friends. Color your Popeye coloring pages online with the interactive coloring machine or print to color at home. Enjoy!
 Click here to find out our collection of Popeye the Sailor coloring pages !