Halloween party decoration ideas
Decorating your house for Halloween can be spooktacular and Hellokids has some simple ideas for the best Halloween Party ever!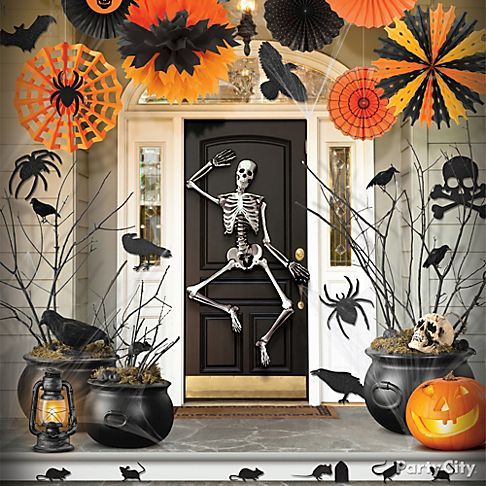 Spooktacular Halloween Decoration Ideas
Cover your table with a Halloween table cloth, fabric or even a white sheet.
Create your own festive table centerpiece by tying a bouquet of Halloween balloons to a pumpkin.
Group a few more smaller pumpkins in various sizes around the larger pumpkin. We always group items in three's.
Add color by scattering candy corn down the center of the table.
Provide small pumpkin treat holders or pumpkin cookies with the guests names at each place setting.
Hang orange and black balloons in corners with black ribbons attached.
Hang spider webs up in ceilings and corners and place big hairy spiders in some of the cobwebs.
Cover tables with black plastic table cloth and decorate with a pumpkin cut-outs and pumpkin garlands.
Decorate each doorway for your Halloween party with cobwebs and spiders.
Lower the lights to create an scary atmosphere, or replace the lights with red or black bulbs.
Throw old sheets over furniture and decorate with spider webs.
Hang glow-in-the-dark skeletons from the ceiling and walls.
Light essential passageways with strings of glowing Halloween party decoration.
Use Halloween music to set the mood.
If your tired of the same old black and orange colors... try adding purple, orange, green and yellow color.

Enjoy your original halloween party decoration !